We are currently weathering the storm known as COVID-19. Most of us are staying home, practicing physical distancing, and avoiding crowded spaces and large gatherings. As a result, the next few months will unfortunately be a struggle for many Canadian businesses. Physical retail is declining at a rapid pace, especially for non-essential shopping, leading to (hopefully) temporary store closures.
But it's not all bad news. Some businesses are seeing extreme growth at this time. Grocers, drug stores, retailers that offer high-demand products like home office equipment or toys to keep our kids busy. Amazon is just one of the many retail giants that is seeing a huge spike in traffic and sales and is scrambling to hire extra employees to fulfill the demand.
What do these businesses have in common? Ecommerce. They either already had a thriving ecommerce business or were able to quickly enable online shopping and delivery for their customers. Either way, many businesses had to adjust their processes and business models in a matter of days, something that would typically take months or even years.
While the circumstances are far from ideal, it's inspiring to see how businesses are adapting in the face of adversity with the help of ecommerce and other technology platforms.
In Every Crisis Lies Opportunity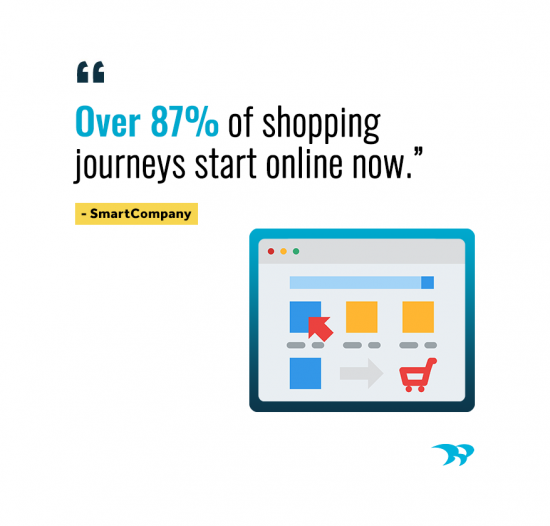 Most businesses were caught off guard by the COVID-19 crisis. But those with outdated or nonexistent ecommerce capabilities, old, inefficient websites and lack of ability to transact business with their customer digitally were especially hard hit. Those businesses may be treading water right now or trying to wait out the storm, but in this crisis lies an opportunity too.
This "quiet time" may also be the perfect time to invest in optimizing your ecommerce and digital relationships with your customers—whether it's B2B wholesale customers or direct. We won't be physical distancing forever but the shift in purchasing behaviour that happens during the crisis, will likely have lasting consequences. People who were previously reluctant to shop online now have no choice and once they get used to the convenience, they will not return to their old shopping patterns.
Take the 2003 SARS outbreak for example. It resulted in a dramatic change in consumer behaviour, accelerated the growth of ecommerce and spawned new digital businesses. COVID-19 is an even larger global crisis that is forcing the movement from traditional physical selling to online selling and adoption of omnichannel strategies. GoJava and Lululemon are just a couple of great examples of Canadian businesses who are pivoting their business models and processes to quickly adapt.
What you do now, how you future-proof your business today, will largely determine your success post COVID-19 and in the event of another crisis. While our instinct might be to scale back, minimize all expenses, and just get through the next few months, that may not be in your businesses best interest long term. History has proven that those companies that continue to strategically invest during times of crisis, beat out their competitors when the crisis passes. 
"While it can be tempting to conservatively sit on the cash to safely weather the storm, that strategy might staunch the bleeding, but it won't help your business recover lost profits. Marginal costs are lower now than they may ever be again. Now's the time to explore different strategies and channels to gain a bigger share of voice in the marketplace over your competition." Within Retail Pulse
Why Invest In Ecommerce Now  
We're seeing that ecommerce is booming right now and the convenience to consumers coupled with the analytics it delivers to businesses mean the trend is going to stick around.
It can't be overstated that the ability to capture and serve customers online is critical to business success and longevity. It was already true before the crisis and is proving to be even more true today. And that goes for most any type of business—retail, small business, large enterprise and business to business (B2B). In fact, B2B ecommerce is projected to be the largest area of ecommerce growth between 2020 and 2025 and two times bigger than B2C in 2020, according to Forbes.
If ecommerce is more of a sidebar in your business strategy or nonexistent, now is the time to innovate and rapidly build and deploy an online service offering that will get you through this crisis and eventually become part of a well-integrated omnichannel approach.
While it may seem like a scary undertaking right now, the silver lining is that many ecommerce and website CMS providers are offering extra features and support to make the process smoother and help companies going through a tough time. Our partner Kentico is providing extended support and Shopify is offering new features and support as well in response to COVID-19.
Here are some other advantages of ecommerce to consider:
Convenience: Your customers can purchase from you 24/7, from anywhere they are and from any device. It's easy to find, compare and select products or services.
Speed: It's a lot quicker and easier to set up and manage than a physical retail or B2B wholesale business.
Cost: The operational costs are also lower than with physical selling and you can provide better quality service for less.
Scale: Theoretically, there are no geographic limitations to who your customers are. You can reach a broader range of potential customers online.
Ecommerce: More Than Just Another Way to Sell
At this moment, you might be focused on quickly building and rolling out your digital capabilities to meet immediate customer demand and stay in business. But ecommerce offers much more than just online selling and once this crisis passes, businesses will be able to focus on all the ways they can optimize their processes, operations and value proposition through these platforms.
The rich data and insights that ecommerce platforms provide can help you make smarter decisions for your business to increase revenue, reduce costs and become more customer centric. These analytics allow you to make intelligent predictions around inventory levels, product assortment, customer behaviour, store level assortment and much more. Many ecommerce platforms also offer marketing and search engine optimization (SEO) tools to help make promotion of your business simpler and quicker to execute.
Ecommerce platforms also offer features or integrations that allow you to take advantage of the latest tech, like artificial intelligence and automation, that enable you to develop cutting-edge solutions positioning you as a market leader in your industry.
Custom vs. Off-the-Shelf Ecommerce Solutions
Deciding between an off-the-shelf and customized ecommerce solution really depends on your business. There is no one right answer for everybody. For some businesses, an off-the-shelf platform may meet all of their needs perfectly, but if you have a unique product or service offering, or specific business processes you need to work around, a customized solution may be the smarter choice. Check out How To Decide Between Off-the-Shelf and Custom Software for some factors to consider.
There are pros and cons to both options. A customized ecommerce platform may take longer to develop and deploy, and the upfront investment may be greater. But you'll end up with a product that meets all of your needs, that you own and are in full control of. On the other hand, an off-the-shelf ecommerce platform may be a quick and easy solution, with standard features to meet most of your needs. There are some downsides to consider though:
Customization: Even off-the-shelf platforms usually require at least some customization. For example, storefront branding, mobile shopping functionality, altering product categories, payment or reporting options. This will end up costing you more time and money. And in the end, it may not be able to provide the exact functionality you need because these platforms have limitations.
Integration: The platform may not provide the integrations you need with your other business software especially if it is made by competing companies. And where integrations are possible, they often require plugins which open a whole can of worms when it comes to security vulnerabilities.
Cost: Your monthly subscription costs may skyrocket over time as you add more features and functions. Plus, some of these platforms take commissions on your online sales.
In the face of the current COVID-19 crisis, many businesses are rushing their ecommerce solutions out the door. While that may provide the quick fix they need today, it may not be the most forward-thinking approach, risking their ability to stand out in the market and scale in the future.
Conclusion
While your immediate goal as a business leader might be to simply survive the COVID-19 crisis, this is the ideal time to strategically invest in technology that will help you emerge out of this crisis and set your business up for long-term success. Ecommerce offers a great opportunity to connect with your customers digitally while providing you insights and tools to make smarter decisions for your business.
The timing of it all may be distressing and seem risky, but that's why it's more important than ever to choose the right technology partner to guide and help you. A great custom software development partner has the team, expertise and breadth of experience to tailor an ecommerce solution specific to your unique business and recommend the right tech stack without trying to box you into a specific platform.
At Whitecap, we understand this is a sensitive time and we will do whatever we can to support you through this challenge. So, whether you simply want to speak with an expert about whether or not ecommerce is the right fit for you or you're ready to start building your customized ecommerce solution, reach out to us for a chat.
We're all in this together and we're excited to do our part to support Canadian businesses through this tough time and help them emerge as leaders.