Whitecap Canada is proud to announce we are finalists of the 2023 Microsoft Canada Inclusion Changemaker Impact Award. These annual Canadian awards recognize the Microsoft partners who have enhanced the lives of Canadians by championing diversity and inclusion, provided exceptional customer service, and embraced digital transformation utilizing Microsoft technology.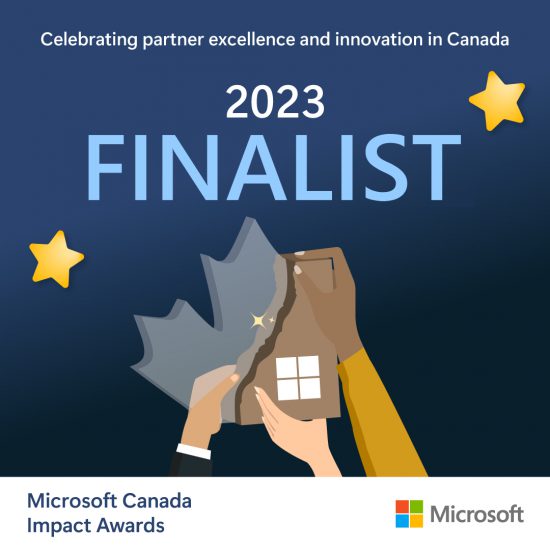 "As a proud Gold level Microsoft Partner since 2003, we are thrilled to be recognized for the outstanding work our team has been doing using Microsoft technologies," said Dan Carmichael, President, Whitecap Canada. "This achievement celebrates the work we did with the Federation of Canadian Municipalities (FCM), helping them to modernize their Green Municipal Fund (GMF) database using Microsoft Power Platform. A $1.6 billion project, the GMF helps local governments switch to sustainable practices faster with tools they need to create better lives for Canadians. We're happy to have been able to contribute to the success of their mission."  
The Power Platform was the right option as the backbone, with Whitecap providing the necessary customization to ensure that FCM could meet its user experience (UX) goals. Leveraging a range of Microsoft tools, Whitecap helped create a modern, responsive and accessible web portal that establishes a solid foundation for the future of this system and other FCM digital transformation projects. 
"GMF's needs and requirements are evolving as it grows, and building the tool this way ensured it would be scalable and future-proof, ready-made to handle the additional data structures and information sources we plan to incorporate in the future," says Autumn Corvus, Information Technology Services Project Manager at FCM. "This project became a pilot project that we can show to others as an example of what can be done with the Power Platform's built-in capabilities." 
Microsoft Canada presented these awards in 32 categories on July 5, 2023 as part of a lead-up to Microsoft's Inspire conference. Winners and finalists were selected based on the outstanding work the companies provided to their customers and community.  
"We are pleased to recognize Whitecap Canada as this year's finalist of the Inclusion Changemaker Impact Award," said Harp Girn, Vice President, Global Partner Solutions, Microsoft Canada. "Our partners are the backbone of our company and have demonstrated excellence in innovation and harnessed Microsoft's solutions to enable customers to achieve more. We take great pride in the diversity of our ecosystem and look forward to celebrating their outstanding achievements."   
Learn more about the Microsoft Canada Impact Awards: Impact Awards 2023 – Microsoft Canada