We've been seeing an influx of clients looking to modernize their SharePoint sites. SharePoint has long been the go-to tool for collaboration, document management and internal communication with companies big and small. But many are still using dated versions of SharePoint and looking to upgrade their SharePoint classic experience to the modern one.  
What Is the Modern SharePoint Experience?
SharePoint Online, SharePoint Server 2019 and the new SharePoint Server Subscription Edition (SE) all have the modern experience option. Anything older is considered the classic experience. So, what exactly does the modern experience offer? Here are a few highlights: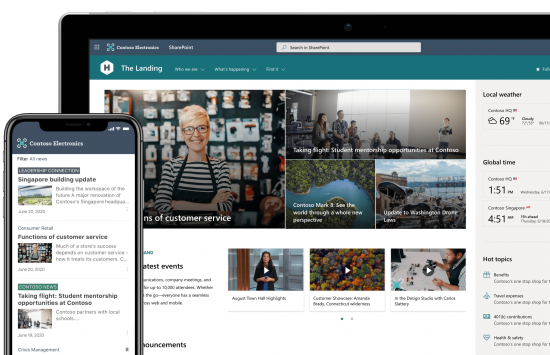 Better User Interface (UI): The list, library and content pages have a new cleaner look and it's easier to customize your site's design with your company branding. It's also responsive, meaning SharePoint sites can be accessed from a desktop or mobile device and pages resize automatically. No more frustrating zooming and scrolling needed.  
Better User Experience (UX): The functionality is also improved. Copying, moving, sorting and formatting files is easier and quicker. Publishing new content is also easier and can be done without the help of your IT team. You can also easily access your organizations SharePoint sites through the Microsoft 365 start page. 
Built-In Automation: Power Automate is already integrated into the modern experience allowing you to automate business processes and workflows. Arguably the best feature of the modern SharePoint, Power Automate allows users to create and share automations with little or no help from a developer.  
Microsoft 365 Integration: Collaboration has never been easier with the help of new and improved Microsoft 365 Groups. It's quicker to add group members and automatically assign permissions and share resources. And integrating Microsoft Teams with SharePoint gives your users an even more user-friendly platform for chatting and collaborating.  
The bottom line is that the modern SharePoint experience is more flexible, adaptable, collaborative and user-friendly.  
Choosing Between A Modern SharePoint Server or SharePoint Online Site
When SharePoint is deployed on premises (which is how most companies did it in the past), gaining the benefits comes at a large cost and makes scaling challenging. On premise installations require companies to buy and install servers and software licenses. And if you experience exponential growth, this infrastructure could be rapidly outgrown requiring a new investment in more hardware and software, not to mention IT support. For these reasons (and the benefits listed below), many businesses are choosing to upgrade to SharePoint Online.  
However, if your organization has a complex, server-based foundation in place, it will take time to dismantle and rebuild, in which case you may not be ready for a move to SharePoint Online just yet, and the sensible choice would be to upgrade to the modern SharePoint Server 2019 or SE. Just keep in mind that only SharePoint Server 2016 and above versions can use their existing infrastructure while upgrading to SharePoint SE. Any older versions would require migrating to SharePoint 2016 first then to SharePoint SE, in which case you might as well go online.  
If this sounds complicated, it is. Don't worry, you're not alone. An experienced SharePoint implementation partner will be able to review your existing set up and business requirements and recommend a solution to best meet your needs. 
Benefits of SharePoint Online
If you're leaning towards SharePoint Online but are not fully sold on it yet, here are some benefits to consider: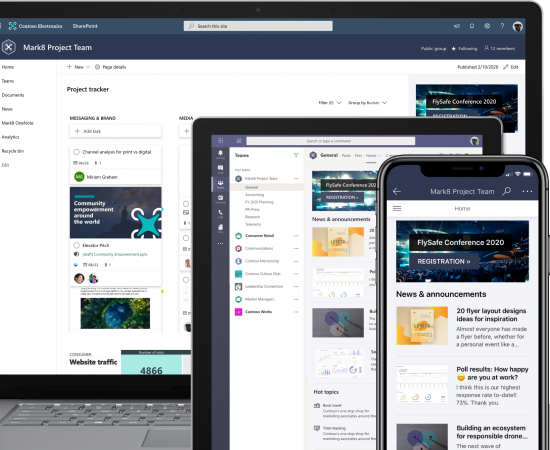 It's Cloud-Based: At this point we all know the cloud is where it's at. It's more cost-effective, faster, scalable, collaborative and mobile. Plus, Microsoft handles all the security so there's no guesswork about whether you've configured and protected your information effectively. 
Maximizes Productivity: Having all your files online in a centralized hub streamlines your document management processes. It's easier to access documents anytime, anywhere and collaborate on them together in real time. Plus, the integration with other Microsoft products, like Outlook, Excel, PowerPoint and more, gives your team even more flexibility with editing and saving documents in the centralized drive.  
Growth Made Easy: Adding more staff?  Buy more licenses. It's as simple as that. You don't need to add hardware when you bring on more employees. You can also reassign or remove licenses as employees leave and buy more storage as needed. Scaling up or down has never been easier.  
Less Maintenance: Upgrading to SharePoint Online will free up time that your IT staff has to spend on maintenance and give them more time to focus on other mission critical projects. With access to the latest Microsoft updates, you'll also enjoy a more reliable SharePoint solution with better uptime. 
What Does the SharePoint Modernization Process Look Like?
An experienced SharePoint partner will be able to do a deep dive into your existing SharePoint implementation, map out your current and future business requirements, and recommend a modernized SharePoint solution tailored to your specific business needs. While SharePoint offers standardized processes and workflows out-of-the-box, most businesses will likely want and need customization to have it work perfectly for their staff. And how complex the upgrade process is, depends on the age and extent of customizations in your current solution. 
There's definitely a lot to consider (what to move, how to move it, who are the internal stakeholders, timelines, training, documentation, support), but advanced planning, coupled with implementation expertise, can take the headache out of any new tech initiative and help to make sure all your business applications work well together. 
The Bottom Line: There are different ways to modernize your SharePoint site and which approach is best for you depends on your existing set up and business needs. A SharePoint expert will make the process much easier than trying to do it on your own.  
Ready to modernize your SharePoint site? Let's chat.