It is clear by now that the COVID-19 pandemic has affected nearly every business (negatively or positively) across Canada. Regardless of size, industry, or the clientele it serves. Consumers and employees were forced to rapidly adapt to the online world, while many businesses scrambled to adapt their technologies, processes, and operations accordingly.
While the change is undeniable, what remains unknown is the speed of recovery and just how different the post-pandemic business landscape will look. It seems likely that the increase in online operations and transactions is here to stay long-term. But is your business prepared for more surprises or the next big disruption?
This crisis has given many of us a huge wakeup call that things can change overnight, anytime and we all need to have the flexibility to adapt quickly. A big part of that adaptability is making sure the mission critical applications, that are the foundation of your business, are scalable on demand. Modernizing legacy applications went from a long-term goal to an immediate need for many of our clients in recent months.
So, if you've been putting off that application modernization project, now is the time get it started. But you need to think beyond simply rebuilding applications as they are but using newer technology. This is a golden opportunity to rebuild a better solution. One that will meet the needs of your customers, employees and ultimately your business no matter what lies ahead. Here are 6 things to consider as you work on your post-pandemic application modernization strategy.
Put The Customer First
However you decide to modernize your applications and business as a whole, it is clear that it has never been more important to be customer-centric. Gone are the days of "build it and they will come" thinking. Your job as a business leader is to understand your customer needs and behaviours and provide the experience they are looking for.
This can mean different things depending on your business. Throughout the pandemic, retailers of all varieties have had to implement things like contactless delivery, curbside pick-up, and touchless point-of-sale to ensure the safety of their customers and staff. All these processes are powered by modern web or mobile applications that give retail businesses omnichannel sales and digital self-service capabilities.
Similarly, employees need to be provided the tools they need to do their job efficiently in a flexible environment. This includes tools like Microsoft 365 that allow for remote and mobile collaboration. More on the benefits of cloud-based applications coming up.
How can you make sure your applications are built with your users in mind? Check out our 7 Tips for Achieving a Great User Experience.
Scale Up Your Ecommerce Capabilities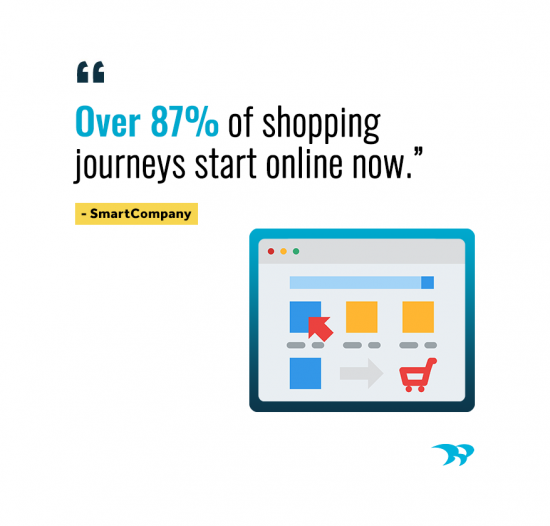 Online shopping increased by 120% in Canada as the effects of the pandemic settled in. Businesses and consumers alike can no longer resist the need for online shopping options and the trend will only continue to gain traction.
Sadly, many businesses were caught off guard with outdated or nonexistent ecommerce capabilities. But in every crisis lies an opportunity and this may be the perfect time to invest in modernizing your ecommerce and digital relationships with your customers—whether it's B2B wholesale customers or direct. And the silver lining is that ecommerce platforms do a whole lot more than simply enable you to sell online. The rich data and insights that ecommerce platforms provide can help you make smarter decisions for your business. More on that below.
There's a lot to consider when building or modernizing your ecommerce solution and there is no one-size-fits-all option. Learn more in Ecommerce: Strategies for a Changing Business Landscape.
The Time For Cloud Is Now
One of the most common application modernization strategies is to rehost your applications in the cloud. It's popular because it's a relatively quick and easy approach that provides many benefits, such as improved security, lower maintenance costs, on-demand scalability, and the flexibility your employees need to work remotely.
Hosting and developing your applications in the cloud comes with many more advantages and it's simply the smart thing to do to future-proof your business. Using cloud technology allows you to deploy and service applications quicker and scale easier as your business needs evolve (or as your business adjusts to the next big disruption). Plus, the cloud makes integration between applications and data sharing easier, boosting the efficiency and productivity of your team.
Moving your mission critical applications to the cloud can help you weather a crisis by improving availability, reliability, and resiliency. Your employees can work and collaborate remotely with access to all the applications and data they need, and your IT team can operate more efficiently while trimming costs.
Make Informed Decisions  
One of the biggest perks of ecommerce and cloud platforms is the business intelligence they provide. The rich data and reporting capabilities give you a 360 view of your business and unprecedented power to make informed and timely decisions for your business, in times of crisis or growth.
In response to the COVID-19 crisis, many food manufacturers and grocers had to quickly adjust their production and product assortment to meet changing consumer demands. Many of us prepared for the lengthy isolation by stockpiling essentials and demand for some grocery items went up by 400%. Manufacturers focused on producing just their most popular items in increased quantities, allowing grocers to keep their shelves stocked.
Between the manufacturers and grocers, a massive amount of data and analytics on consumer behaviour went into making sure everyone's needs were being met. And you can be sure there were some state-of-the-art applications powering those critical, time-sensitive decisions.
Consider Low/No Code Development Platforms
One of the greatest challenges of this pandemic for businesses was the speed at which they had to adapt. Technology projects that would typically take months or years to complete, had to be rolled out in weeks or even days. Can you imagine the volume of requests and work that IT departments were flooded with?
Well, what if you didn't always need to involve IT or developers in building and deploying applications? That's where low/no code development platforms (like Microsoft Power Platform) come in. They enable anyone to build an application by using the platform's building blocks and telling the application what to do, without having to touch much if any code. It's an ideal solution for simple, internal applications that business units can build and manage on their own with minimal intervention from IT.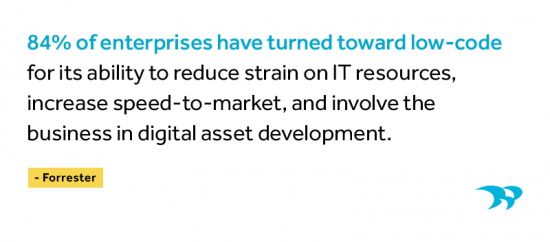 But before jumping on this trend, take a look at our post Are Low Code Platforms Right For Your Business? While there are some clear and compelling advantages, you'll want to weigh those against some potential pitfalls.
A Platform Is In Your Future
By now you may have noticed that all this application modernization talk was peppered with a lot of "platform" mentions. That's because software development these days is often done using the foundation and building blocks of an existing cloud-based platform, such as Microsoft 365 & Azure. The great thing about these platforms is that you can still build complex, integrated, custom business applications, but with less effort and expense.
Platform as a service (PaaS) is a complete development and deployment environment in the cloud, with resources that enable you to deliver everything from simple cloud-based apps to sophisticated, cloud-enabled enterprise applications. You purchase the resources you need from a cloud service provider on a pay-as-you-go basis and access them over a secure Internet connection. (Microsoft)
Whether it's for ecommerce, productivity or business intelligence, a cloud-based platform is likely the best starting point for a modern application and technology infrastructure for your business. It gives you the flexibility, adaptability, and agility your business needs to respond to rapid growth or unexpected challenges.
Conclusion
Application modernization is surely on the mind of many business leaders as we cautiously emerge from this health and economic crisis. And the pandemic has made it clear that there is no time to waste when planning to kick off a modernization project.
This is an opportunity to not just build something new, but to build something better. But there are many things to consider in your application modernization strategy, such as: your customer needs, employee needs, technology requirements like ecommerce or cloud platforms, and making sure you have the insights to make the smartest decisions for your business come rain or shine.
Need some help working through all your options and modernizing your applications? Let's chat.