Since the beginning of the pandemic, one of the key drivers of the accelerated transformation effort has been to try and bridge business process automation and realize productivity and efficiency gains. As companies move beyond addressing the immediate needs brought on by the pandemic to more long-term planning phases that build on the advances of the last few year, automation, hyperautomation, and robotic process automation (RPA) are starting to dominate the headlines.  
In our latest client survey, we found that improved business process automation topped the charts. Eighty percent of clients want their software to allow for better business process automation.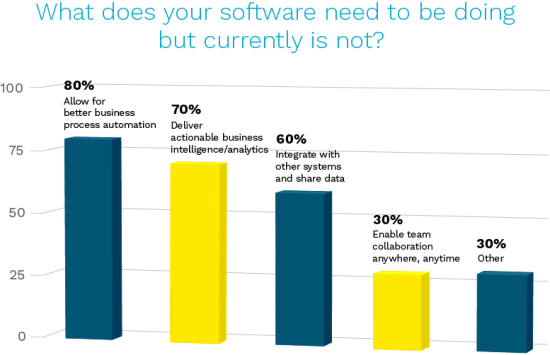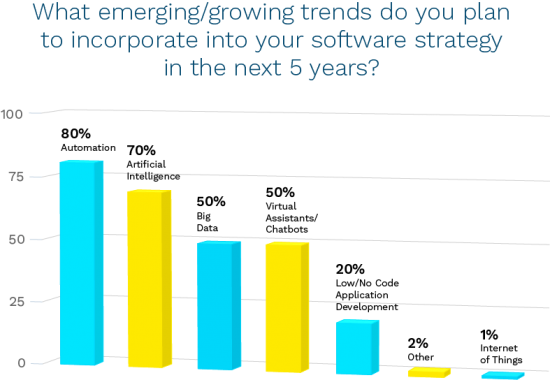 But before we jump into that topic, let's take a step back to explore the history and meaning of automation. 
What Is Automation?
Automation can be defined as technology that can be applied to a repetitive business process to minimize or eliminate human input into that process. Examples of such business processes include factory work, invoice processing, customer service and email marketing to name just a few. Eventually, the only human work involved in that process would be overseeing the automation.  
Automation is a very broad term that can be applied to different technologies like robotics or software, and business processes across many different industries and business types. Almost any business likely has several processes that would make good candidates for automation. Many people shudder at the idea of automation, fearing it will eliminate their position – the dystopian vision of robots taking over our jobs. And while that may be true in some cases, in most cases it simply means improving efficiencies, lowering costs and freeing up your employees' time to focus on more important tasks that will help grow the business. 
"Organizations lose 20 to 30% of revenue every year due to inefficient processes." IDC 
While automation has been on every top tech trends list in the last few years, it's not a new or even recent concept. It's been a buzzword in tech circles for 40+ years. But it's been snowballing in recent years as technology becomes more powerful and automation becomes easier and more efficient to implement. You don't even really need to be a developer anymore to build your own business process automation thanks to tools such as Microsoft Power Platform and Power Automate. 
Examples of Automation
Automation will play an increasing role in almost everything we do. With more and more people relying on ecommerce, automation has a huge role to play in making online sales transactions more efficient. From artificial intelligence (AI) product recommendations and automated marketing to customer service.  
As a custom software developer, every system we build is automating something. Eighteen years ago, we developed a self-service wagering app that replaced calling in by phone to Woodbine to place your bets on horse races. We've been maintaining and updating the application ever since. We also work with a commercial drone delivery company in developing and managing their automated drone flight system. Before developing this technology, drones would be limited to flying being controlled by line-of-sight hand-held devices.  
AI is an example of more recent automation technology. AI essentially replaces the need for human judgement in coming up with an intelligent response to an inquiry or dilemma; it can simulate a person, their judgement and response. So instead of going to another person to get something done, the process can be automated using AI and bots. This type of automation lends itself well to customer service, tech support and similar human-to-human interactions. It also holds much promise in the medical field in areas like radiology, which could help improve quality and reduce errors. Our client Woodbine is using AI to configure and recommend bets based on large amounts of historical data in a recently launched wagering application called Dark Horse. 
The potential for automation technology is immense. The challenge for businesses is identifying processes that are good candidates for automation. Of course, that's where a great technology partner (like Whitecap) comes into play.  
On the Fast-Track to Automation
The COVID-19 crisis had many companies investing in upgrading their tech and accelerating their digital transformation goals. Businesses were scaling up their digital capabilities in record time from virtual collaboration to ecommerce and cloud computing. It's time to start thinking about how you can get the most out of these investments long-term. And taking advantage of the automation capabilities that this new technology makes possible, is a logical next step.  
"Those businesses that have designed their solutions to use the full potential of cloud computing, will not buckle under the pressure." (World Economic Forum) 
What we were seeing pre-COVID was our clients placing automation on their 5-year software upgrade roadmaps. But the ability to be agile, rapidly scale and automate in this new era of business will not only help businesses survive the immediate crisis but thrive in the aftermath. There are plenty of automation opportunities that can help improve efficiencies, increase the ROI of your tech investment, and keep your employees happy.  
For example Microsoft Teams. Did you know that Teams can help you automate some of those tedious daily tasks? Using Microsoft's Power Automate, you can create flows and automate repetitive work tasks that trigger within Teams. For example, you can create automatic alerts and notifications when a task is created or completed, or aggregate and automate all your team's approval processes. The possibilities are only limited by your imagination.  
Consider also some of the ways automation technologies, like AI, can improve your user experience. Between the impact of COVID-19 and competitive pressures, companies need to look for ways to innovate their customer experience. AI could be introduced as a support chatbot on your website or you can build more complex AI-powered customer experiences. Vivanda is a great example of a customer engagement platform that uses machine learning (a type of AI) to create flavour profiles and deliver customized experiences for customers of food and beverage companies. In addition to increasing efficiency, these technologies can help to improve the experience of your customers by offering them greater control over how they interact with you and your brand. 
"There's a move towards reconstructing customer experiences that don't sell overtly but solve problems." (360 Magazine) 
Conclusion
While the concept of automation is nothing new, improving technology, competitive pressures and now the COVID-19 crisis are accelerating the need for businesses to incorporate automation into their strategies. Whether that's to create internal efficiencies or improve customer experience.  
And while the technology is becoming more user-friendly, there's no substitute for the guiding hand of an experienced technology partner. A software development company, like Whitecap, can help you identify processes that lend themselves to automation, map out the functional requirements, design and build the solution to meet your unique business needs.  
Do you have an idea for something you'd like to automate, or do you need some help figuring out how to improve business efficiencies with automation? We'd love to hear from you. Let's chat.