We revamped HPIBet's user experience, improved functionalities and overhauled the technology in the back-end to boost security and responsiveness.

Project
Custom Software Development
Technology
.NET, HTML5, CSS3, MVC
We wanted to refresh the brand look and feel, and refresh the design to be more forward thinking and intuitive to the modern horse player.
BACKGROUND
Woodbine Entertainment Group (WEG) was founded in 1881 as the Ontario Jockey Club and is the largest operator of horse racing in Canada. WEG's HPIbet platform was originally created to let horse race enthusiasts conveniently place bets, review handicapping statistics, and fund their account online.
The Challenge
After years of enhancements and upgrades to the original sites launched in 2002 (which were designed to allow wagering on horse racing, funding of customer accounts and the viewing of race information online through a collection of separate WEG sites) time had come to modernize the brand, update the user experience, improve functionality and overhaul the technology in the back-end to boost security and responsiveness.
"The plan was to revamp HPIbet, which was a very solid, reliable and secure wagering platform but was built on older technology," says Kevin Maharaj, Senior Manager, HPIbet & WEG Simulcast Development. "We wanted to create a site that exceeded our current customers' expectations while at the same time providing a new customer with an intuitive user experience that encouraged repeat play."
Woodbine was also looking towards the future and attracting a new generation of horse racing enthusiasts to the sport.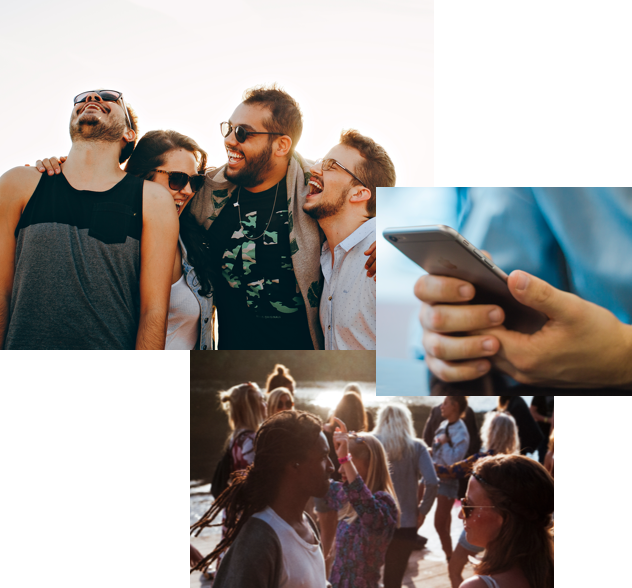 We knew a younger, more tech-savvy clientele would want more streamlined online features, intuitive displays and easy access from any device.
"We knew our typical customer profile wasn't being regenerated at the same rate as in the past. We put a very big push towards making horse racing a more mainstream product, cool sport and introducing the sport to a younger generation in a multifaceted marketing way," he explains.
WEG launched a mobile app a few years ago to support the growing mobile community but realized that maintaining multiple sites not only increased management and maintenance time but created an inconsistent user experience from the desktop to the mobile site.
"We wanted to give our customers a faster and easier way to play, with a consistent method for accessing race programs, making a bet or searching for a horse, a jockey, or a driver, regardless of the customer's choice of device," explains Maharaj.
WEG had been doing regular updates and upgrades to its online wagering platform for almost 15 years.
"The site that was live prior to decommissioning late last year was 'leaps and bounds' better than the original site but we didn't make monumental shifts. They were evolutionary rather than revolutionary. This time around, we knew we needed to do more than a step jump improvement, we need to leap frog and go a lot further than we have done in the past to try and generate interest with that new audience," says Maharaj. "From a business perspective, we felt if we continued to make incremental changes to the previous platform, we would grow at a snail's pace and we didn't want to do that."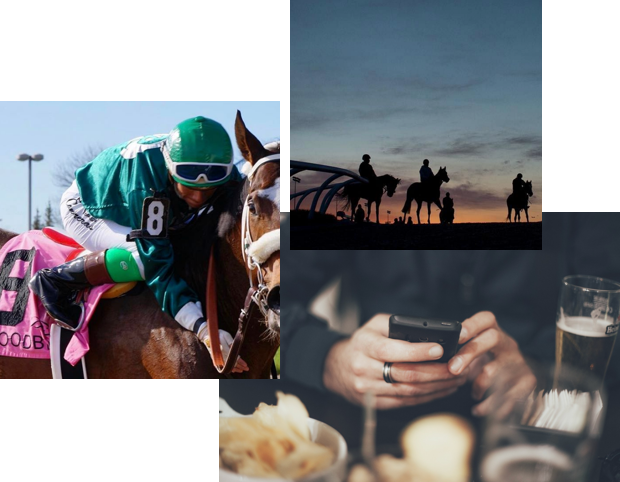 "They were evolutionary rather than revolutionary.
This time around, we knew we needed to do more than a step jump improvement."
The Solution
A more iterative and collaborative experience
When WEG and Whitecap Canada started work on plans for the next generation redevelopment project, they took the time to carefully evaluate every existing feature of the web and mobile portals before deciding which elements to upgrade and which to drop in the new custom software solution. They also looked at new elements customers had been asking for but weren't possible on the older platform.
Whitecap used its e-Business Requirements Analysis & Design (e-RAD™) process to help Woodbine take a completely fresh look at the requirements for its online betting portal including the objectives, functional requirement, integration needs, user interface designs, technical architecture, administrative or operational issues and branding.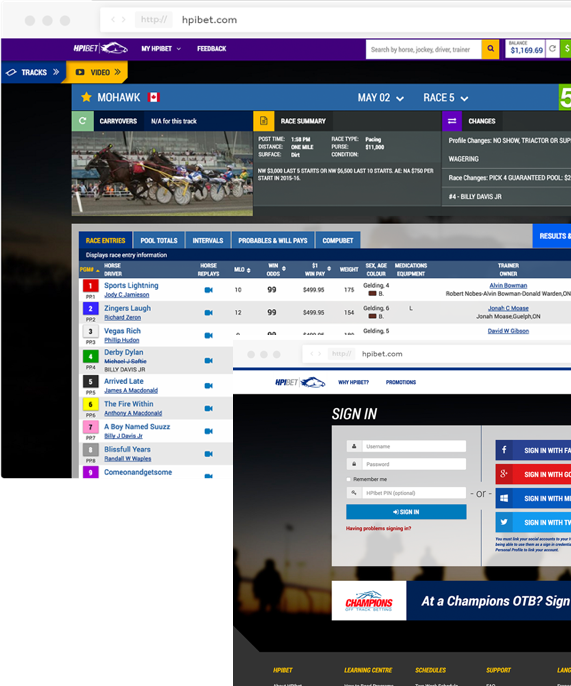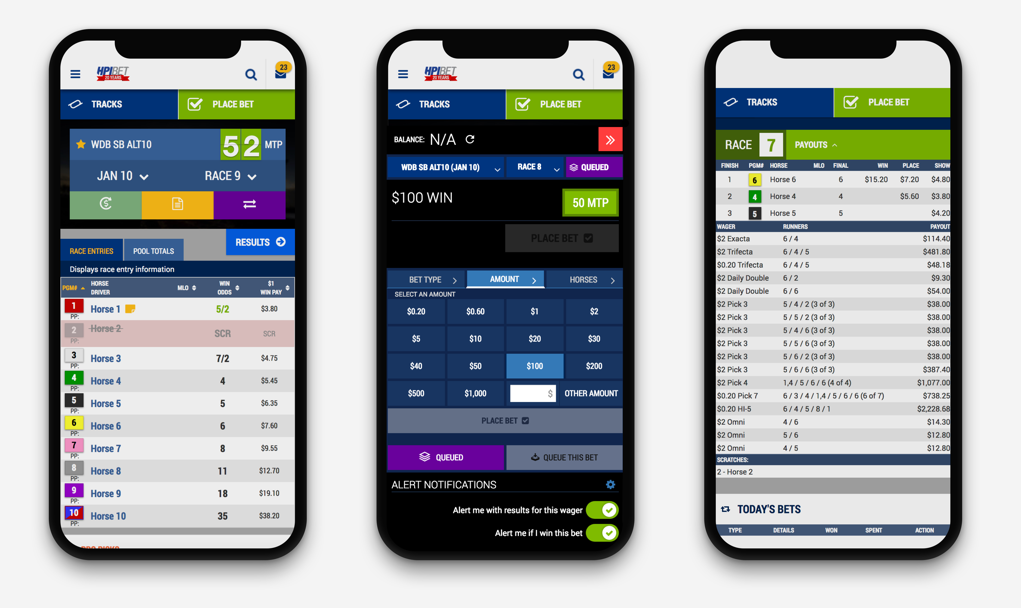 "Working with Whitecap is a more iterative, collaborative experience. They listen to suggestions and help us come up with the best solutions," says Maharaj, adding the team is very responsive and gets back to him quickly even evenings and weekends. "They are very hands-on and are as invested in the outcomes as we are." Leveraging its e-RAD process, Whitecap detailed the specifications and functional requirements necessary for the custom software revamp to clarify Woodbine's goals and priorities before any development work started. Maharaj says it is a useful process and helped make the development process efficient. "e-RAD provided the high-level boundaries of what we should look at, and it gave us the flexibility to try new things. The process was very helpful.
Through this process it became clear that the new application would be designed on a responsive platform, leveraging the best features of the legacy Horse Player Interactive Portal, HPIbet, HPIFund, and HPI Mobile sites, while improving security and providing faster real-time information to customers. Combining five applications into one site delivered faster, single sign-on navigation for the customers, and for HPIbet made the site more streamlined and easier to maintain and update.
We wanted to refresh the brand look and feel, and refresh the design to be more forward thinking and intuitive to the modern horse player.
Recognizing that every second counts for horse players and with an eye to making sign-in as simple as possible, WEG is the first Advanced Deposit Wagering platform in North America allow social media sign. HPIbet customers can now log in and access the site with their Facebook, Twitter, Google + or Microsoft account credentials.
Concurrently with the technological and user interface redesign, and working in close collaboration with Whitecap's creative design team, WEG launched a complete rebranding of the former Horse Player Interactive site to create a more modern, aggressive logo and branding as HPIbet.
"We wanted to refresh the brand look and feel, and refresh the design to be more forward thinking and intuitive to the modern horse player. The new look reflects our passion to innovate the wagering experience in a sport with deep historic roots for many Canadians. Ultimately our goal is to give our customers the right tools and innovative features to help them win and become better horse players," says Maharaj.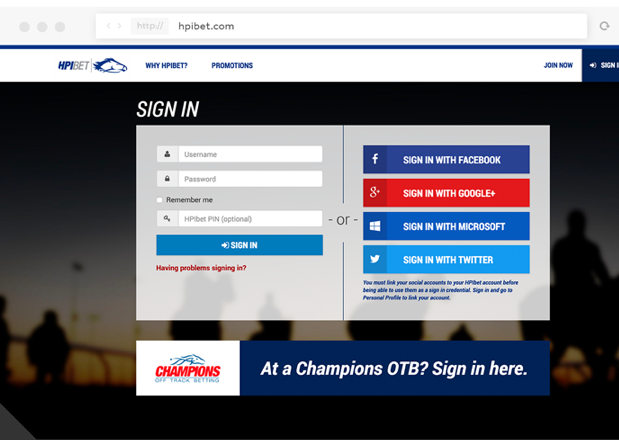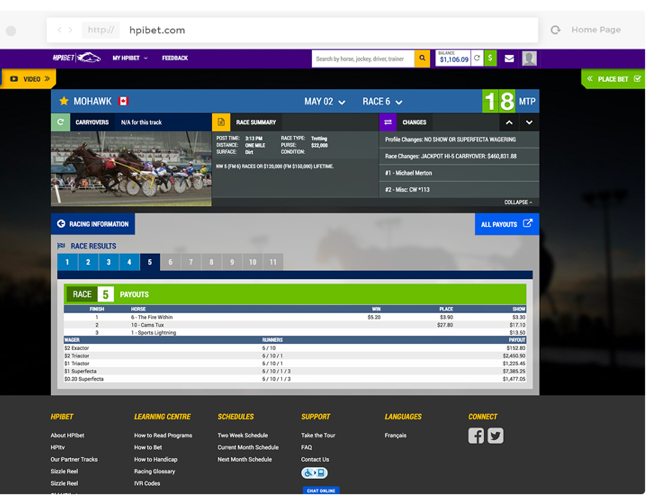 Whitecap built a user-friendly design that streamlined and simplified access to key features as a responsive site using a Bootstrap framework. This allowed designers and developers to create a dynamic user interface. Whitecap took time to refine every part of the site to provide for an intuitive user experience that was responsive to touch and gestures, while also presenting the reams of detailed information that horse players want to see in a format accessible on every type of device.
"We are constantly challenging ourselves and Whitecap to push the envelope, to better deliver what our customers want. Globally, the gambling market is evolving in how and where products are delivered. We know the trend is moving towards HTML5 as its base, coupled with a responsive framework. And, while there is something to be said for native applications and the added value of the visibility you receive from those storefronts, the ability to access your site on any browser makes HPIbet.com virtually ubiquitous from any device," says Maharaj. "Responsive design affords us that flexibility of keeping things consistent. Regardless of the device, the experience is exactly the same."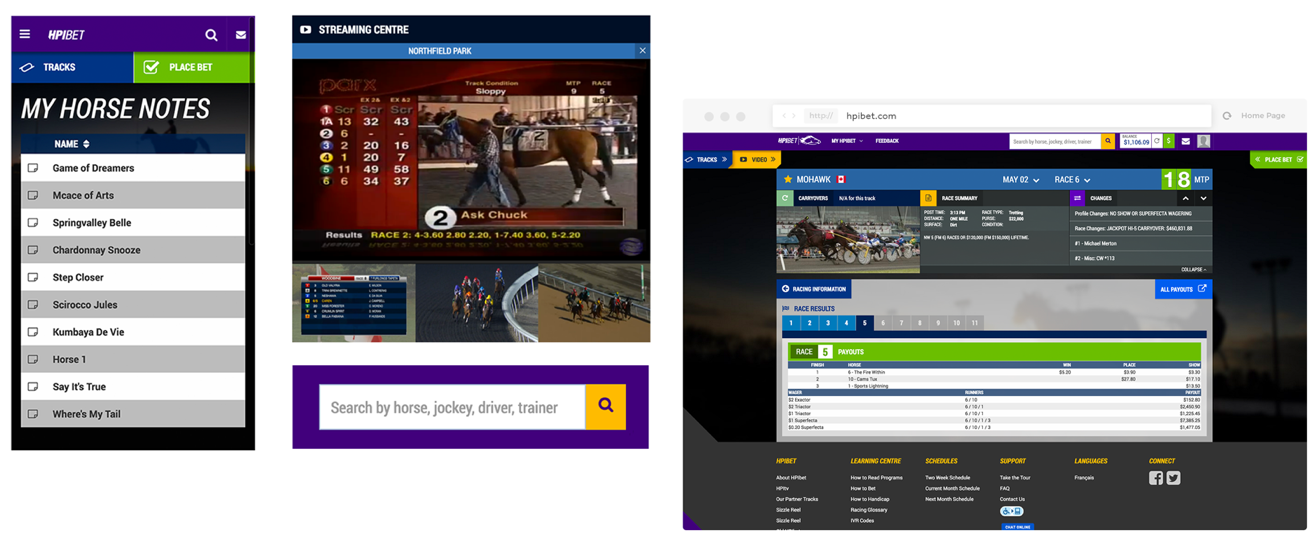 "We designed the site to be far more intuitive, far more feature-rich and we've included elements customers have been asking about for years"
HPIbet supports a wide range of browsers favored by the diverse HPIbet horse player community and Whitecap took time to create icons or convert information into simplified charts to make sure the content could be displayed in a way that worked on large and small screens alike.
"We designed the site to be far more intuitive, far more feature-rich and we've included elements customers have been asking about for years but we couldn't implement previously because of technological limitations," says Maharaj, noting during the application development process, every feature and function was reviewed and evaluated. "Search was a feature we never had before and once customers found it, they loved it," he says, noting customers can now quickly and can easily find their horse, jockey, driver or trainer. "It might seem like a simple thing but it was a big feature improvement."
Woodbine has also added "My horse notes", a free form text file that allows users to create online notes that are tagged to the horse so when a customer is viewing that horse again they can see an icon that will take them back to that saved note. We saw horse players furiously writing notes down on programs and then they'd toss it in the garbage at the end of the race losing all that valuable information. We can now capture and catalogue it," explains Maharaj.
In addition, the new design lets horse players view up to four videos simultaneously on the same screen. With up to 150 racetracks available during the racing season for online wagering, being able to watch all the races on a single screen has been an extremely popular addition. "We took the On Track simulcast experience of viewing multiple races on our TV walls and said let's give them that experience online. Customers love it. It's the number one feature they can't live without now."
The back-end technology was also updated. Using the latest Microsoft ASP.NET and SignalR Web Sockets technology WEG servers can now push new or updated race information to its customers in real time, which dramatically improved access to information while reducing query loads on the server. Real-time access to updated race or bet details is critical as races near post time.
The Results
READY FOR THE FUTURE
Looking at the numbers, the upgrade has been a huge success. This year alone, registrations for HPIbet are up almost 40% over last year and the volume of transactions has increased 15%. While Woodbine admits they took their time migrating customers over from the legacy portal to the new site, the number of active users continues to grow every month.
"It is a passion of mine to keep trying to innovate and create new products or enhancements to keep our customers happy. Whether they know it or not, our customers have been an active and integral part of this re-design and reflects how the site evolved thanks to their feedback," says Maharaj.
In addition to customer support of the new responsive site, Maharaj knows they met the goal of excellence in user experience (UX) design. In pre-launch testing, a pilot group of HPIbet core players scored a 98% pass rate on completing all the assigned usability tasks in less than a few minutes.
"Testing proved the site was easy to use," says Maharaj. "From a revenue perspective, the numbers are up, people are using the site more frequently, and they are staying on the site longer per session. We can tell from the numbers, as well as the wealth of customer feedback, that we've built something that is benefitting the HPIbet brand, Woodbine Entertainment Group and most importantly, our customers."