There can be no doubt that the lingering effects of the COVID-19 pandemic continue to impact every business. In 2020, consumers and employees were forced to adapt, leaving many businesses scrambling to modernize applications, processes and operations. 
The pandemic accelerated digital transformation and the mass digitization of businesses, but also highlighted the issues created by out-of-date technology and systems. The push to modernize applications went from a long-term goal to an immediate need for many businesses. Research from Accenture found a decade of digital transformation has been compressed into a year or two. The research found 95% of businesses say they are innovating with urgency to accelerate and master change across their organizations.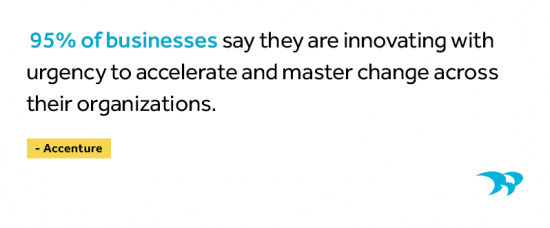 While many companies were able to put measures in place to enable work from home and conduct business online, in some cases, those solutions were a temporary fix. The need for a long-term strategy to modernize applications remains. The past year has shown why businesses need a modern foundation to support customers, employees, and their business goals no matter what lies ahead. 
6 things to consider when building a strategy to modernize applications
1. Put The Customer First 
It has never been more important to be customer-centric. Gone are the days of "build it and they will come." Your job as a business leader is to understand your customers' needs and behaviors and provide the experience they are looking for. 
We have seen some amazing examples during the pandemic of how retailers pivoted to put customer needs first – like implementing contactless delivery, touchless point-of-sale, and expanding online ordering and delivery options. On the work front, businesses ramped up remote connectivity options to give staff the tools they needed to work from home including using Microsoft Teams to maintain face-to-face contact or deploying Microsoft 365 for remote access and collaboration. 
2. Scale Up Your Ecommerce Capabilities 
For many businesses facing lockdown orders and closures, online sales and support have become the primary source of revenue. The e-commerce trend was building pre-pandemic but became a necessity over the last year. 
For companies who had not yet adopted some e-commerce capabilities, or who see the potential to expand their online offerings, it is not too late. While surveys show people will return to in-person retail and business interactions, we know this will take time. 
Investing in e-commerce capabilities delivers an added benefit: The rich data and insights that e-commerce platforms provide can help you make informed, real-time, and data-backed decisions to help your business. 
3. Now More Than Ever, Cloud Makes Sense 
Cloud was one of the most important tools helping businesses move online when the pandemic struck, and it remains one of the most common application modernization strategies. Cloud offers businesses on-demand scalability which has become so critical in our uncertain world. Moving to a monthly fee can lower operating costs and maintenance costs, and security updates and protocols can be enhanced. 
Not to mention, cloud-based solutions offer employees and IT staff greater flexibility and remote access. 
Plus, the cloud makes integration between applications and data sharing easier, boosting the efficiency and productivity of your team. 
4. A Platform Is in Your Future 
Software development is often done using the foundation and building blocks of an existing cloud-based platform, such as Microsoft 365 & Azure. The great thing about platforms is that you can build complex, integrated, custom business applications, with less effort and expense. 
"Platform as a service (PaaS) is a complete development and deployment environment in the cloud, with resources that enable you to deliver everything from simple cloud-based apps to sophisticated, cloud-enabled enterprise applications. You purchase the resources you need from a cloud service provider on a pay-as-you-go basis and access them over a secure Internet connection. (Microsoft)" 
Whether it's for e-commerce, productivity, or business intelligence, a cloud-based platform is likely the best starting point for a modern application and technology infrastructure for your business. It gives you the flexibility, adaptability, and agility your business needs to respond to rapid growth or unexpected challenges. 
5. Capturing Data for Informed Decisions 
One of the biggest perks of e-commerce and cloud platforms is the business intelligence they provide. The rich data and reporting capabilities by modernizing applications can give you a 360 view of your business and unprecedented power to make informed and timely decisions for your business, allowing you to become more customer-centric and gaining instant visibility so you can pivot business direction much faster than in the past. 
Throughout the pandemic, we have seen industries shift quickly to meet emerging demands. For example, a massive amount of data and analytics on consumer behaviour went into making sure everyone's needs were being met by our grocers and manufacturers to keep shelves stocked with essential items.  
6. The Emerging Role of Low/No Code 
One of the greatest challenges for businesses this past year has been the speed at which they had to adapt. Digital transformation has been accelerated due to the pandemic and looking ahead, digitization of business remains a top business priority. 
The growing popularity of low/no-code development platforms (like Microsoft Power Platform) are empowering the citizen developer to accelerate the development and deployment of new applications. It's an ideal solution for simple, internal applications that business units can build and manage on their own with minimal intervention from IT.
"84% of enterprises have turned toward low-code for its ability to reduce strain on IT resources, increase speed to market, and involve the business in digital asset development." Forrester 
The Bottom Line: Modernize Applications to Build Better
While we continue to cope with the challenges of the pandemic, we are presented with an opportunity to not just build something new, but to build something better. There are many things to consider in your application modernization strategy, such as your customer needs, employee needs, technology requirements, and how to equip your business with the insights needed to make the smartest decisions for your business into the future. 
Need some help working through all your options and modernizing your applications? Let's chat.