The Holiday Season is all about reflection, gratitude and joy. While I have much to be grateful for, I find it much harder to find joy in this new virtual world. 
The past two years have been a bit of an emotional rollercoaster for me as a business leader. On one hand, I am grateful that now ubiquitous tools like Microsoft Teams, DevOps, Zoom and others, have made business continuity possible for us. Many businesses were not so lucky. On the other hand, as a real "people person" I've struggled with the lack of daily face-to-face interactions with my team.  
Leading With Empathy 
I've come to realize that my leadership style is all about personal connection, empathy and team building. I love getting to know all my employees personally. I know the names of their spouses, kids, pets. I love to hear all about their weekends and life's milestones. One of my greatest joys is taking everyone out to a large group lunch and sharing stories and laughs over copious amounts of delicious food. What I love, and have always loved about Whitecap, is the people. The people are what have made us the great and successful company that we are today.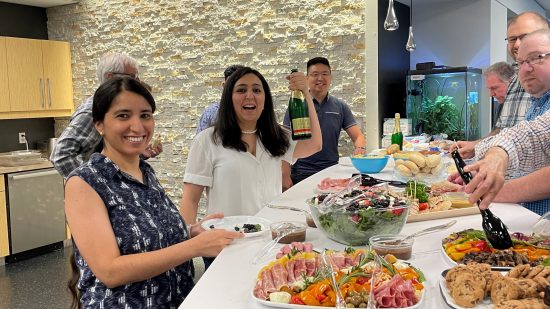 So, while all these virtual tools have been great for conducting business meetings and keeping things going, that missing element of personal interaction leads to many lost opportunities in my view.  
Now hear me out. I know some of you are already firing up your counterarguments. Yes, working remotely has many benefits: less commuting and stress, more flexibility, better work-life balance, etc. However, there are many documented benefits of office culture as well, such as: increased productivity, improved employee satisfaction and culture, more opportunities for collaboration, spontaneous idea sharing, and continuous learning.  Far too often, people underestimate the importance of company culture and the significant role it has to play in your success.  
Embracing Change
Change is constant and undeniable. I'm not here to be a wet blanket on progress. However, I have spent the last 25 years building a fabulous company from scratch. A company with amazing, highly skilled, dedicated and loyal employees, all working together towards a common goal—my Whitecap family. Together, we have built a great culture driven by our values. Not being able to see everyone face-to-face on a daily basis has been challenging. 
Of course, necessity is the mother of invention, and I am finding ways of adapting my business, culture, and leadership style like many others. Here are a few things that have helped me embrace the new virtual reality: 
Introducing a hybrid working model. Employees are required to come into the office on two days of their choosing each week. It's the best of both worlds and I love seeing everyone in person again.

Re-introducing small social gatherings. A few weeks ago, some of us went out to dim sum for the first time in two years! Needless to say, too much food was ordered and lots of fun was had.
Virtual team activities. We do our best to stay connected and have fun with activities such as virtual trivia, bingo, etc. We even did a live, virtual tour of Paris with 

Woyago

. That was a unique experience.  

 
Whatever makes you uncomfortable is your biggest opportunity for growth. – Bryant McGill 
Remembering What Matters
There is so much value (both personal and business) in a laugh, a handshake and a hug. If we're only seeing each other through screens, that value is lost. As we put the pandemic behind us, my wish for the New Year is that while we enjoy the benefits of this new way of working, we remember to connect face-to-face more often.  
On that note, I would like to wish you a Holiday Season filled with joy and laughter, and cheers to a brighter 2022!
---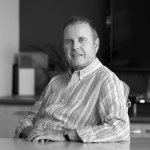 Robb Carmichael
President & CEO, Whitecap Canada