The holiday season has arrived and I for one love it. The festive decorations, gift shopping for loved ones and nostalgic family traditions make this a truly meaningful time of year. It's also a time where we all slow down a little bit, take time off work and pause to enjoy the holiday spirit.  
I like to take this as an opportunity to reflect on the year coming to an end and look ahead to what's in store. As we wrap up another great year at Whitecap, it's got me thinking about how our business has changed, things I am grateful for and exciting things I'm looking forward to.  
Changing Technology Landscape 
With over 22 years in the software development space, I've seen first-hand how rapidly technology has been evolving and how it's been changing our professional and personal lives. It's fascinating to witness the limitless possibilities of what we can build, the global and local challenges we can address with smart technological innovation.  
The type of work our clients are requesting and the technology we use to build their solutions has also been changing over the years. We've been a part of some truly transformational development projects that disrupt industries, connect people and communities, and enable businesses to provide smart, personalized experiences for their customers.  
For years the tech industry has had a bad reputation for toxic corporate cultures, employee burnout, high turnover and a "move fast and break things" attitude. While I'm happy to see evidence the tides are changing, I'm proud to say this has never been our philosophy at Whitecap. Our focus has always been on delivering the highest quality solutions to our clients while fostering an open, creative, collaborative and rewarding work environment that makes our employees want to stick around. We work hard and have fun and no matter what, family always comes first.  
Things I Am Grateful For
Speaking of family, I am incredibly proud of and grateful for our Whitecap family. We have a diverse team of talented people from all over the world including: India, Ireland, Poland, Russia, Egypt, Bangladesh, Pakistan, Iran, Philippines, The United States, China, Italy, Sri Lanka and of course Canada. While we come from different backgrounds and may have vastly different life experiences, we all share the same fundamental goals – to be happy, to provide for our families, to contribute to our community, to learn, grow and hopefully make a small difference in the world.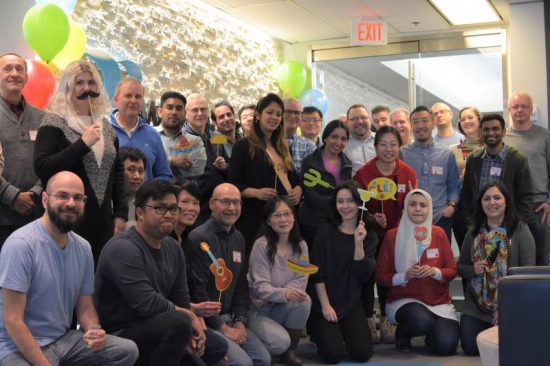 I truly believe that diversity of experience, thought and skill greatly contributes to a company's success. We all bring different value to the table and together we build outstanding solutions; Solutions that make a difference to our clients, their customers and ultimately help grow all our businesses.  
In today's polarized and divisive climate, I think it's important to remind ourselves that our commonalities bind us, and our differences expand our horizons.  
Running a successful business for the past two decades has also put me in the fortunate position of being able to give back. We don't highlight our corporate social responsibility initiatives very often because I don't want our charitable contributions to seem like marketing ploys. We do it because we can, because it's the right thing to do and because it brings us joy. That said, I would like to draw your attention to a few very important non-profit organizations we are donating to this holiday season, in the hopes that you will consider supporting them in any way you can. 
Centre for Addiction and Mental Health (CAMH) 
The Canadian Electric Wheelchair Hockey Association 
Things I'm Looking Forward To
As we enter a new decade, I am hopeful and optimistic that technology will help us to address some of our global challenges. Electric and autonomous vehicles are poised to revolutionize transportation and re-design cities, AI and robotics will continue to transform healthcare and improve outcomes. And I'm excited for Whitecap to be a part of the solution. 
On a personal level, I look forward to growing and learning new things with every new customer we engage with. I am excited about our new marketing initiatives and taking our company to new heights as we expand our reach. However, I am most excited to continue leading this great company and to work each day alongside an incredibly talented team of people, our "Whitecap Family." It is truly an honour and a privilege to come to work each day and to interact with such highly skilled professionals.    
I would like to wish you a peaceful and joyous holiday season, Merry Christmas and all the very best in the New Year! 
"Cultivate the habit of being grateful for every good thing that comes to you, and to give thanks continuously. And because all things have contributed to your advancement, you should include all things in your gratitude."

Ralph Waldo Emerson 
---
Robb Carmichael
President & CEO, Whitecap Canada