We built a custom eCommerce solution, integrated into Miele's corporate and fulfillment software, with all the functionality and flexibility needed by Miele and its agents.


Project
Custom eCommerce Website
Technology
ASP.NET, SQL Server
As a retailer, it is our responsibility to provide a consistent, and fully-integrated solution across all channels and touch points.
About Miele
Miele is the world leader in the field of premium domestic appliances including cooking, baking and steam-cooking appliances, refrigeration products, coffee makers, dishwashers and laundry and floorcare products. This line-up is augmented by dishwashers, washers and tumble dryers for commercial use as well as washer-disinfectors and sterilisers for use in medical and laboratory applications (Miele Professional). Miele, now in the fourth generation of family ownership, employs more than 17,000 people worldwide.
The Challenge
Miele, known to push the envelope both retail and online, required a solution that was closely aligned with its existing business processes. While their initial eCommerce solution was good at selling simple products like laundry or dish detergent and vacuum filters, it couldn't handle the complexities of appliance sales or the multifaceted promotions Miele offers its customers.
Cooking up the e-Commerce
Miele wanted customers to be able to learn about its appliances and products, then seamlessly select and purchase them with confidence. Purchases of appliance are very complex, given their size, weight, installation requirements, electrical, plumbing etc.
Someone who is living in a single-family home versus a condominium may require different appliances due to a difference in voltage requirements so the eCommerce engine needed to support the necessary logic to ensure that the customer is purchasing the right product. Off-the-shelf solutions could not handle such complexities. And, as Distler explains, delivering a product that does not meet one's requirements is costly and creates a bad customer experience, which was something Miele wanted to avoid at all costs.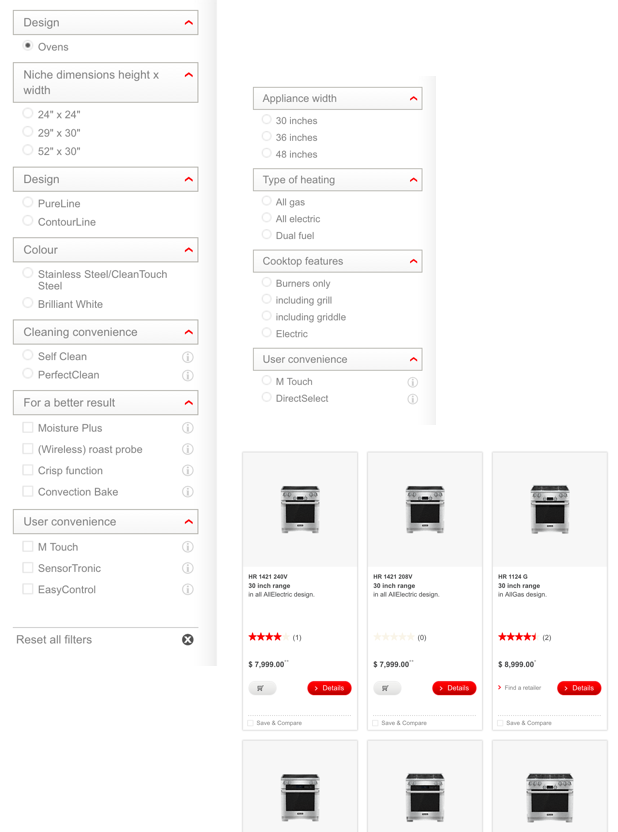 "Calling a 1-800 number to complete a purchase is not what eCommerce is all about. I don't want to make a phone call to finalize my order," says Distler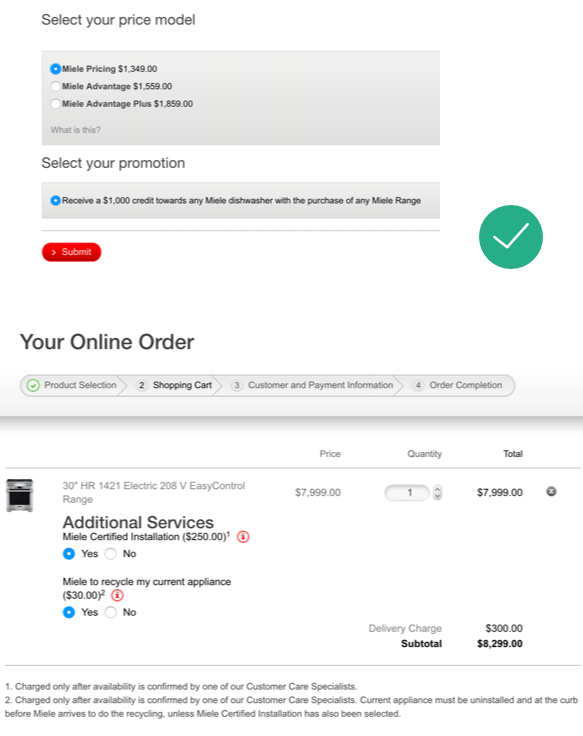 Pushing the Possibilities
Miele was looking for an eCommerce solution that wasn't readily available at the time, even by large retailers who let customers buy online but forced them to call to complete purchases.
The process is complex in the back-end but Whitecap ensured the process was simple and seamless to consumers who can be assured they have bought the right appliance by the end of the transaction.
Designing a positive experience
Whitecap's custom designed solution not only makes it easy for customers to view and compare products, but also makes the purchasing of appliances transparent to the customer, whether they are purchasing from Miele's site or through the website of a Miele Chartered Agent.
In addition, the site gives customers very detailed information about each product including pricing so the customer gets everything they need to make an informed decision in one place, and that the experience is seamless for customers on every device, and in store. Distler notes that customers don't differentiate between online and in-store experiences.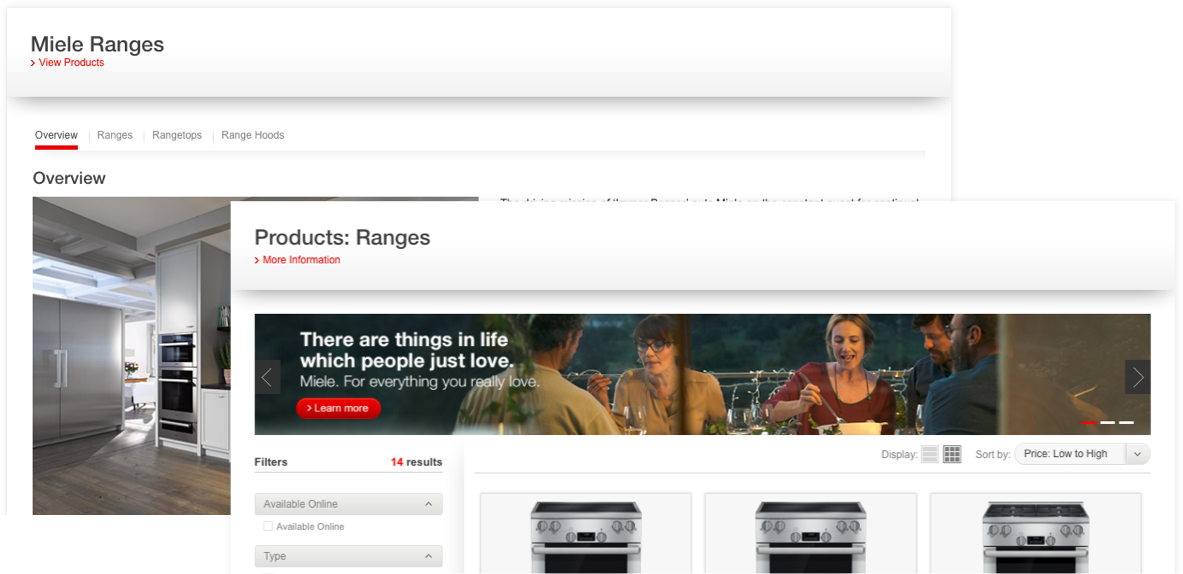 Customers think Miele is getting it right. In satisfaction surveys, customers give the manufacturer a 91% satisfaction rating for their online purchasing experience.

A Myriad of Marketing Promos
Whitecap's custom designed solution automatically applies promotions on check out, making it simple for customers to receive the right promotion.
"There are a lot of variables (to our promotions) which typical off-the-shelf solution could not accommodate. Whitecap codes our unique promotional parameters, which gives us unprecedented flexibility," adds Distler.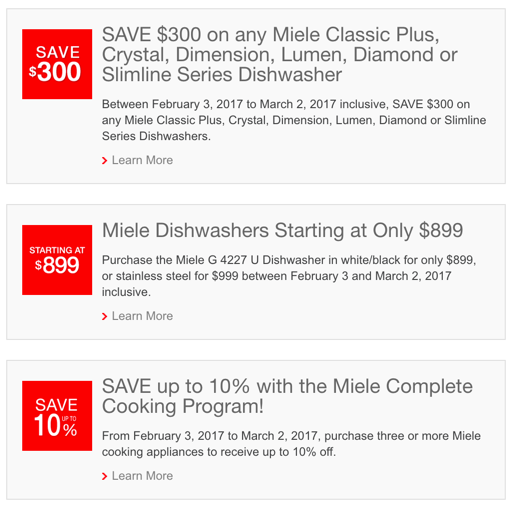 With Full PCI Compliance Customer Data is Protected and out of the way
Find an Agent Online
While making the move to online sales, Miele wanted to include its large network of agents selling Miele appliances.
Miele has succeeded in linking their retailers to Miele's backend while fully integrating all promotional elements into the retailer's site. That way, consumers are able to purchase Miele appliance through the retailer of their choice with seamless eCommerce integration. The order is facilitated through the custom solution that Whitecap built, and with full PCI compliance, customer data is protected every step of the way.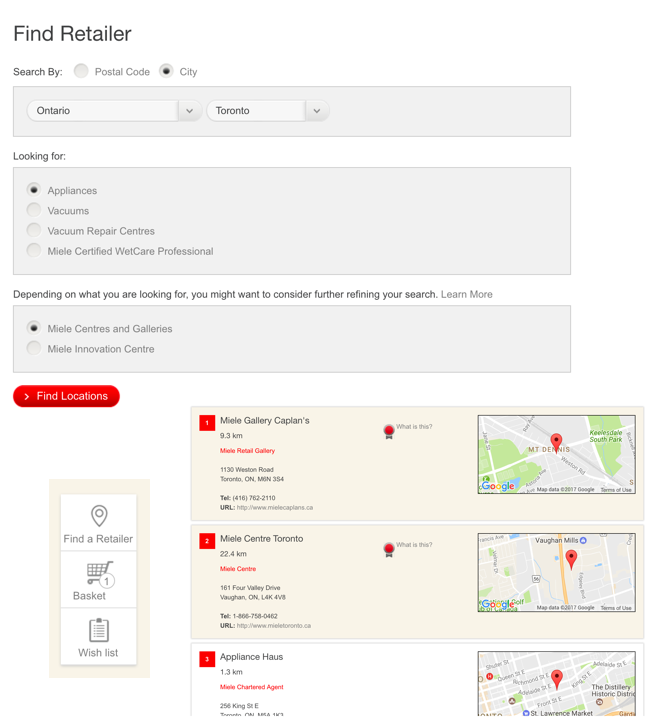 "We wanted our agents to have access to a turnkey solution that allows them to add more value to the consumers they serve, generating more revenue while we bear the complexity for delivering the solution."