We helped the Canadian Cancer Society transform SmokersHelpline.ca into a responsive, flexible and accessible website, supported by CRM, for a seamless customer view.
Project
Microsoft Dynamics 365 CRM
Industry
Not for Profit • Healthcare
Technology
Microsoft Dynamics 365 CRM, Sitefinity, Microsoft Azure, Microsoft.net
At the end of the day, we wanted a tool that was going to work, work well for our clients and have longevity. Whitecap helped us get there.
Background
The Canadian Cancer Society (CCS) is a national, community-based organization of volunteers whose mission is the eradication of cancer and the enhancement of the quality of life of people living with cancer. SmokersHelpline.ca is a mission program of CCS offering tools, support and information about quitting, smoking and tobacco use for Canadians in five provinces and one territory.
The Challenge
Information in Separate Databases
With silos of information across the organization, CCS struggled to get a complete picture of the people who use their services, and the people taking part in CCS programs often needed to re-enter basic information every time they accessed a new program or service.
"Because all our information was in separate databases, we really didn't have a good understanding of how clients interact with us," says Stefanie MacDonald, Manager, Mission and Business Solutions, Canadian Cancer Society. "We wanted to have a 360 view of our constituents and how they are engaging with us from a mission standpoint."
CCS knew a Customer Relationship Management (CRM) platform could capture every interaction and detail program participation, while eliminating the need for participants to constantly re-enter their data. In addition, SmokersHelpline.ca, the CCS website to help people quit smoking, needed a major refresh to provide for mobile access and greater flexibility to modify content.
But, CCS faced issues getting a revamped SmokersHelpline.ca off the ground with a previous vendor. Tapping into a long-standing relationship, CCS asked Whitecap for help get their project over the finish line.
The Solution
Seamless, 360-view of their clients across all program areas
Building on CCS' vision of a seamless, 360-view of their clients across all program areas, Whitecap knew that any CRM deployment needed to be built on a common data model framework to provide seamless communication across program areas, and enhanced reporting as more CCS programs implemented CRM.
Previous attempts at deploying Microsoft Dynamics 365 CRM didn't consider that the data collected by SmokerHelpline.ca needed to communicate with other applications and program areas. Without a common data model at the heart of the solution, CCS would have faced problems integrating other programs down the road, not to mention maintenance issues.
"There are fairly common interactions with our clients across program areas, so we knew if we could streamline our intake process with CRM it could free up staff to do more intensive work for cancer information or Smokers' Helpline or other services," says Kyle McKeown, Senior Coordinator, Partnerships and Promotions, Smokers' Helpline at the Canadian Cancer Society.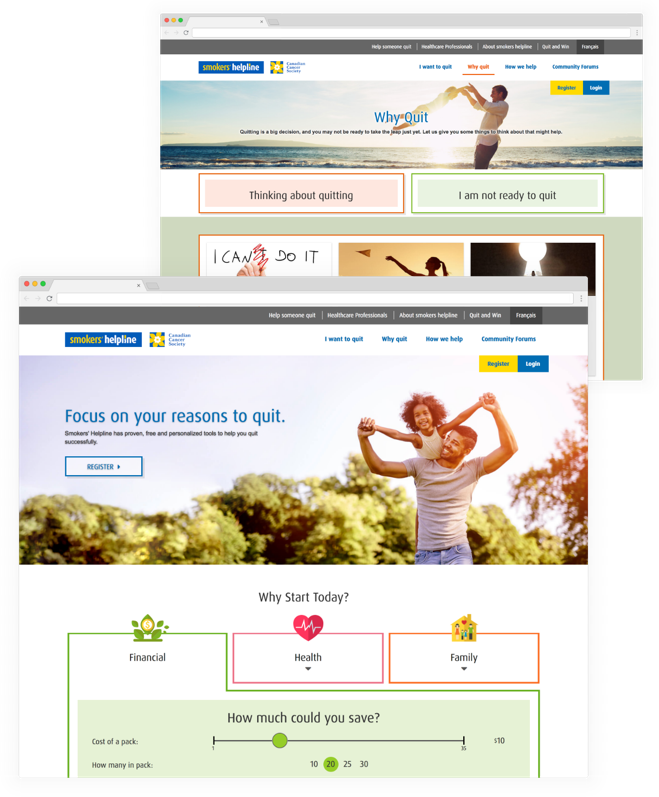 Whitecap delivered the revamped SmokersHelpine.ca website and infrastructure in 8 months. With Microsoft Dynamics 365 CRM implemented with a common data model, CCS is also closer to its organizational goal of a 360-client view.
Delivering on the Wish list
Whitecap not only reviewed the previous work to see what could be salvaged but completed its proprietary eRAD* process to define a detailed roadmap of all the current and future requirements.
"The eRAD process helped us come up with some very detailed and clear plans to move forward," says McKeown, including wish list items CCS thought would be difficult to implement.
For example, CCS wanted to create canned messages for clients to share on social media as they reached key milestones. CCS thought it was a "big ask" but was something Whitecap was able to implement. McKeown says adding new messages and content is simple now.
Whitecap also fulfilled the wish list item for social media authentication. "This was a big thing for us because our younger audiences are more social media savvy and we wanted to give them that option," says MacDonald.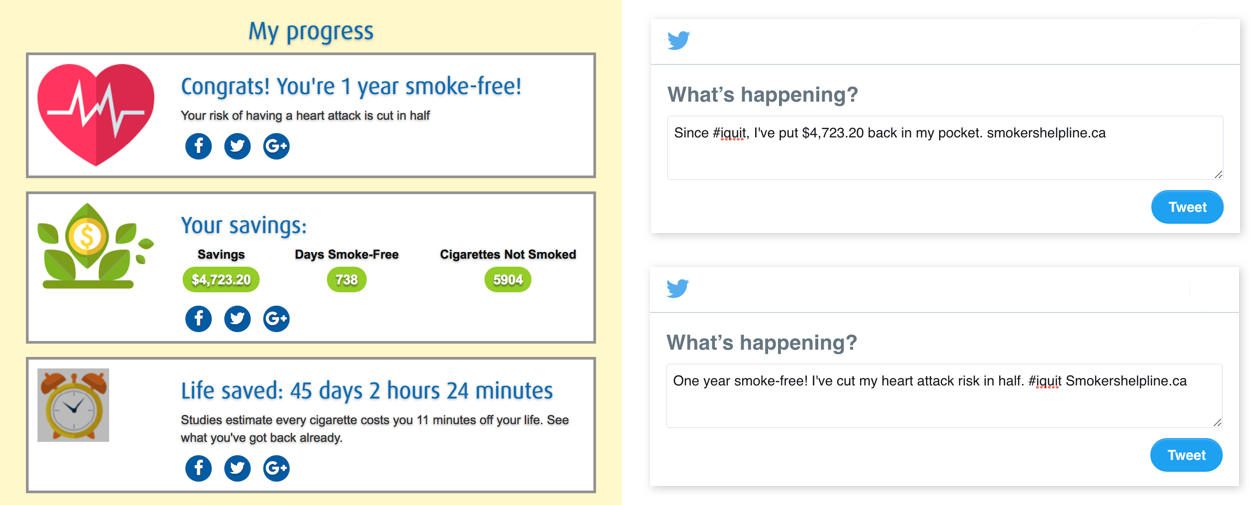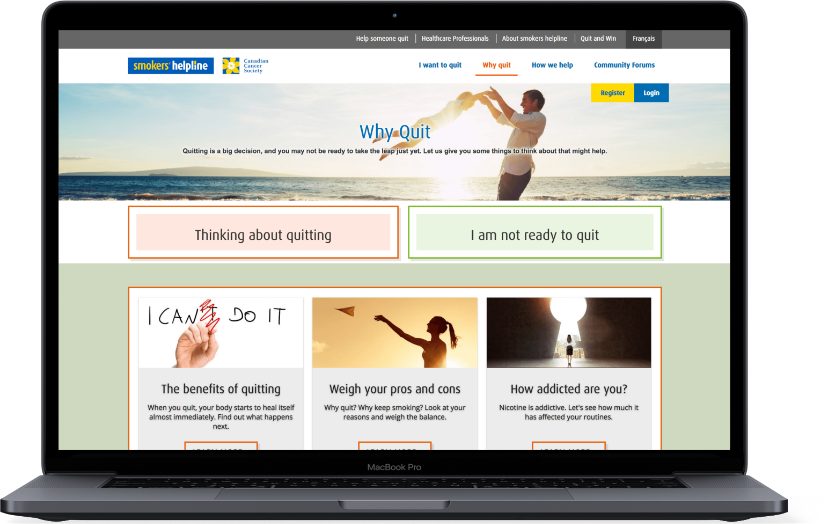 Flexibly Nimble
A big reason to move from their previous software to a custom solution was a need to more easily update or change content and add new information to their site more quickly.
"We were very limited in terms of what we could do and our control over the previous tool," says MacDonald. "Any changes we wanted were costly or couldn't be done within the confines of the system. We were really looking for something that would give us a little more flexibility and let us be more nimble."
CCS had engaged a vendor who created the visual design for the new SmokersHelpline.ca. Whitecap turned the design into a functional and responsive website using Sitefinity Content Management System (CMS) to give CCS the autonomy they wanted, while delivering a responsive design that's ready for CCS clients' growing mobile demands.
With Sitefinity powering SmokersHelpline.ca, CCS gets a web content management platform that allows greater autonomy to create, edit, preview and publish content and pages with drag-and-drop user experience to allow fast updates and inline editing. The platform also provides for quality and governance with approval workflows, permissions and version history.
"I can't count the changes I've made to the content so far; little tweaks and larger content pieces we've been able to easily update," says McKeown. "It has also allowed us to change our process for online ordering of material pretty dramatically and how we communicate with our healthcare partners."
CCS knows that approximately 60% of SmokerHelpline.ca traffic comes from mobile devices and that number continues to grow.
MOBILE AND ACCESSIBLE
CCS knows that approximately 60% of SmokerHelpline.ca traffic comes from mobile devices and that number continues to grow. The previous site was not mobile-friendly so moving to Sitefinity gives clients a better mobile experience.
"We set mobility as a key priority and Whitecap has delivered spectacularly on that front," says McKeown.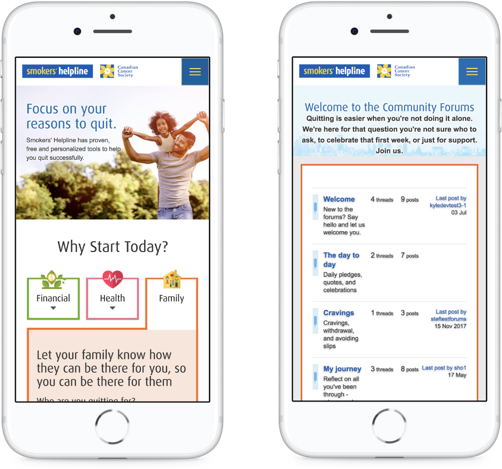 "From a technological standpoint, Whitecap was able to explain what wasn't working, why it wasn't working and came back to us with a few different options to solve it. Whitecap understood where we were, where we wanted to go and how we were going to get there."
The Results
REGISTRATIONS THROUGH THE ROOF
Changes to SmokersHelpline.ca are yielding very positive results for CCS with membership reaching nearly 8,000 clients in the first five months.
"Our numbers are through the roof. We had the strongest January and February registrations we have had since 2012 when we had our Driven to Quit campaign," says McKeown.
SmokersHelpline.ca is also accessible now for people with disabilities and in full compliance with Accessibility for Ontarians with Disabilities Act (AODA) requirement for Web Content Accessibility Guidelines (WCAG) 2.0 Level A.