Due to the pandemic, ecommerce is booming, but its popularity is not only due to changing consumer behavior. Businesses are also realizing that B2B ecommerce offers convenience to their clients and the platforms powering ecommerce can deliver powerful data and analytics that can help businesses adapt to changing environments much more quickly. 
B2B ecommerce is projected to be the largest area of ecommerce growth between 2020 and 2025 and two times bigger than B2C in 2020, according to Forbes.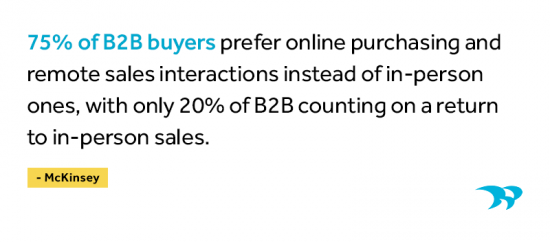 Some advantages of B2B ecommerce
Convenience

: Your customers can purchase from you 24/7, from anywhere they are and from any device. It's easy to find, compare and select products or services.

 

Speed

: It's a lot quicker and easier to set up and manage than a physical retail or B2B wholesale business.

 

Cost

: The operational costs are also lower than with physical selling and you can provide better quality service for less.

 

Scale

: Theoretically, there are no geographic limitations to who your customers are or where they are located. You can reach a broader range of potential customers online.

 
B2B Ecommerce: More Than Just Another Way to Sell
While moving to B2B ecommerce provides a necessary sales channel, it can offer much more. 
B2B ecommerce platforms that deliver rich data and insights can help you make smarter decisions for your business to increase revenue, reduce costs and become more customer-centric including: 
Making intelligent predictions around inventory levels

 

Tracking customer behaviour

 

Refining store-level product assortment to meet demand

 

Integrating with a range of business applications

 

Features or integrations that allow you to take advantage of the latest tech, like artificial intelligence and automation

 

Often cloud-based, these tools offer remote access capabilities to further facilitate work from home needs

 

Marketing and search engine optimization (SEO) tools to simplify the promotion of your business

 
And so much more. 
Custom vs. Off-the-Shelf Ecommerce Solutions
Deciding between an off-the-shelf and a customized ecommerce solution really depends on your business. There is no one right answer. 
For some businesses, an off-the-shelf platform may meet all their needs perfectly, but if you have a unique product or service offering, or specific business processes you need to work around, a customized solution may be the smarter choice. Check out How To Decide Between Off-the-Shelf and Custom Software for some factors to consider. 
The Bottom Line: It's Time for B2B Ecommerce
While it may seem like a scary undertaking right now, starting down the road of ecommerce offers opportunities and benefits that you can't ignore. Strategically investing in technology can help position your business to emerge from this crisis with the tools you need for success. B2B ecommerce offers a great opportunity to connect with your customers while providing insights and tools to make smarter decisions for your business. 
If you are considering ecommerce needs for your business and need help, we can help you analyze your needs and all the options including off-the-shelf versus custom platforms. Or, if want to speak with an expert about whether ecommerce is the right fit for you. Let's chat.