Application refresh is the most common and frequent application modernization approach. A refresh can refer to a wide range of changes but modernizing the customer-facing user interface (UI) is one of the most common refresh projects.  Other examples include updating the design, branding and icons, improving navigation, light feature improvements or addressing accessibility needs. 
There are many signs applications need a refresh. Some of them come on gradually (like slowing performance or negative comments from users) and others seem to develop rapidly. Regular refresh cycles will help keep your application looking and performing at its peak. 
Take our quiz to help identify some of the issues that might be impacting your application and to see if it's time for a refresh.
Your Results
There are no hard and fast rules for an application refresh. Rebranding and accessibility might be your only two issues, but the urgency for these updates could escalate your refresh timeframe. 
As a rule of thumb, the more challenges you're seeing, the more pressing a refresh becomes. 
Under 30% – Monitor Issues. There are a few items you want to address but they're not causing major disruptions yet. Plan to include them in your next refresh cycle in the next 12 months.  
31-60% – Start Planning. You have some time but there's a growing number of issues you will want to address within the next 6-12 months.  
61-100% – You're Overdue. The problems are starting to add up and it could be having serious consequences on your business. It's time to start planning a refresh.  
(Click infographic to enlarge.)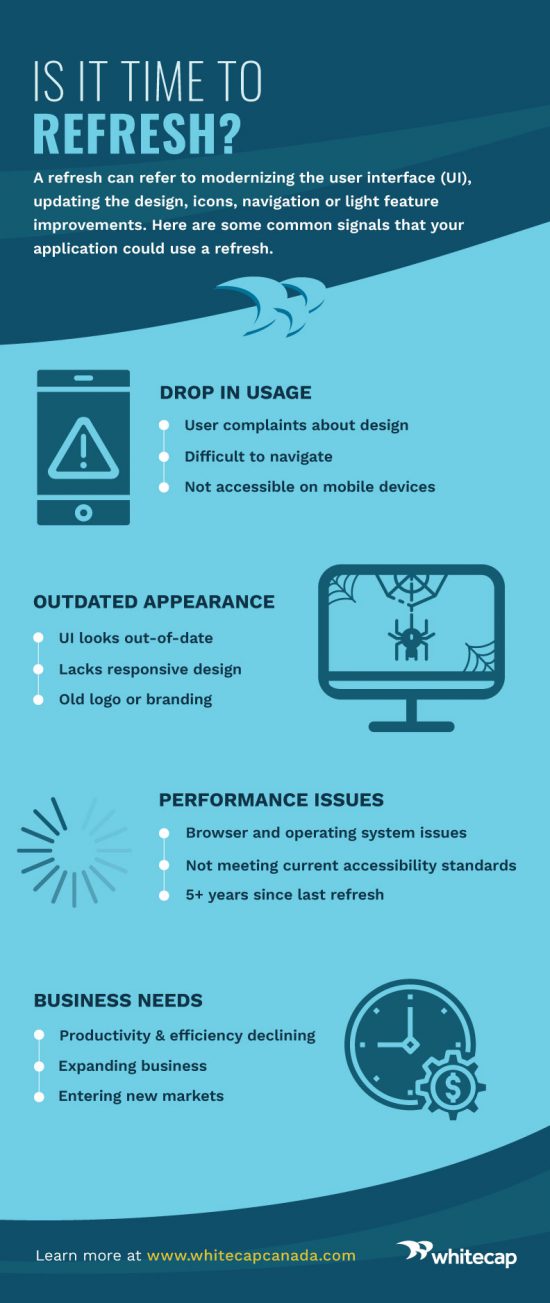 Share this Image On Your Site
Wondering what steps to take next? Download our Application Modernization Guide for a helpful checklist or get in touch with our team of experts to start planning your application modernization project. 
Also see:
Is It Time To Rehost Your Application?
Is It Time To Rebuild/Replace Your Application?