One of the hardest decisions for a company is to rebuild or replace a core piece of custom legacy software. You've invested in its development and upgrades over the years and don't want to see that investment lost. So, has the time come to rebuild or replace your application? 
First a couple of definitions: 
Rebuild

: A

rebuild describes

projects that

chang

e

the structure of

an

application,

deploy

major new features

or

functionalit

y

,

add new language

s or currencies

,

integrat

e

new or upgraded data

sources and/

or

connect to

new

external

solutions

.

A rebuild commonly includes

upda

t

ing

the coding language to a more modern

version

.

 

Replace

: Replacing can mean moving to an off-the-shelf software solution (if one exists that will meet all your needs) or build

ing

a new custom solution from the ground up. Building a new custom application typically includes taking new business requirements into account, adding significant new features,

combining multiple applications,

or providing more seamless integration with other IT

systems. The good news is the old solution can serve as a valuable roadmap and guide to help speed the development of the new application.

 
In today's rapidly-changing, digitally-connected world, software and applications are subject to a defined lifecycle and require on-going checks and maintenance to ensure they continue to work as effectively and securely as they did when they were put into place. Any application that's not working optimally could cause you to lose customers or top talent who become frustrated by lagging, outdated systems. 
Take our quiz to help identify some of the issues that might be impacting your application and to see if it's time to rebuild or replace your software. 
Your Results
Under 30% -> Start Thinking: You're seeing some performance issues so it's time to start thinking about modernization strategies. A refresh or rehost might be sufficient depending on the issues but consider if long-term a rebuild or replace will be needed and start building your case.  
 31-70% -> Rebuild: Getting the performance and features you want might just require one of the application layers to be rebuilt. Start the discussions to identify the options and alternatives. 
71-100% ->Replace: Sometimes starting fresh will allow you to incorporate all the elements you want, and let you ensure connectivity between applications is seamless. Overlaying band-aid after band-aid can make a solution unwieldly and unstable, which can cause even more problems down the road. 
Every situation is different and you could be facing drivers that accelerate the need to rebuild or replace to take advantage of modern features and functions. It can be a difficult decision to replace an application but it can be the best decision for your business over the long term. It's not necessarily a case of throwing out the old for something new – any new custom application takes advantage of the lessons learned and best practices built into the original solution. 
(Click infographic to enlarge.)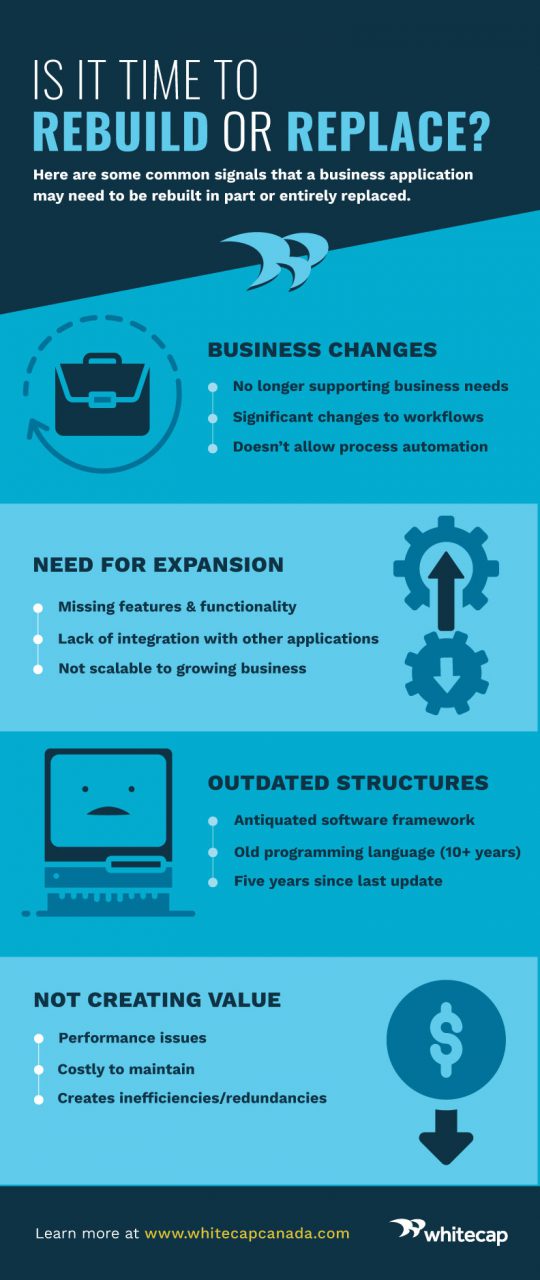 Share This Image On Your Site
Wondering what steps to take next? Download our Application Modernization Guide for a helpful checklist or get in touch with our team of experts to start planning your application modernization project. 
Also see:
Is It Time To Refresh Your Application?
Is It Time To Rehost Your Application?