When businesses think about hosting their applications, it's not uncommon to start talking about cloud services. Rehosting to the cloud has become an increasingly popular modernization approach for a wide range of reasons, but when looking at the hosting requirements of an application or solution, it's important to consider all the options including: 
Public or Private

Cloud

 

O

n

P

rem

ise

 

H

ybrid

S

olutions

 
There are pros to each solution, but which option is best for you will depend on your specific business needs, processes and operations. There's no denying that more and more companies are flocking to the cloud for easier management, the security benefits, and to transfer expenses from capital to operating budgets. 
At the same time as companies are moving large parts of their workloads to the cloud, everything as a Service (XaaS) is gaining momentum. Businesses are looking to outsource IT services, software and even hardware and infrastructure so they can focus their efforts on customers, efficiency, productivity and business growth. 
In a world of increasing pressure on IT departments to deliver business value, outsourcing services also allows companies to access the expertise they need as they need it, without the cost of an in-house team. 
Take our quiz to see if it's time to start thinking about rehosting your applications and consider a move to the cloud. 
Your Results 
If you answered Yes to Questions 2 and 3, capacity and performance issues (regardless of any other issues) escalate your need to act so you'll jump to the "Cloud is Calling" level, even if you scored under 67%. 
For all other results, multiple accessibility, performance and security issues will make discussions about hosting options for your application more pressing, including decisions on whether a cloud-based solution is right for you. 
Under 33% – You're on the Cusp.  Cloud may have advantages but it might not require a move today or offer enough major business benefits in the immediate future.  Monitor and re-evaluate every 3-6 months. 
34-67% – Option Evaluation Phase. You have applications that could benefit from the move to a cloud solution. Start mapping out strategy and establish a timetable to migrate those tools. 
68-100% – Cloud is Calling. Get help to make the move quickly and effectively. 
The decision to rehost an application most often comes around when a business is looking holistically at its application objectives, and concerns or issues related to the hardware and infrastructure come to light during the application evaluation discussion. 
It's important to remember the cloud is not just one thing, and it's not an all or nothing option. Many businesses have some applications and services in the cloud and others on premise. And even in these situations, the types of hybrid configurations can be as diverse and varied as the companies using them. 
(Click infographic to enlarge.)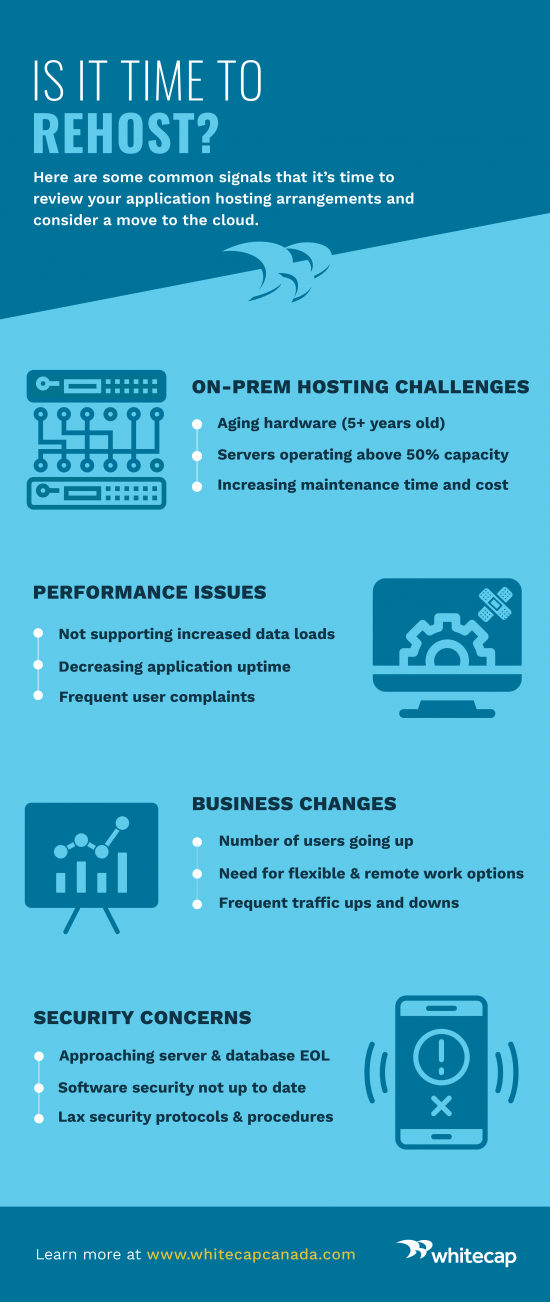 Share this Image On Your Site
Wondering what steps to take next? Download our Application Modernization Guide for a helpful checklist or get in touch with our team of experts to start planning your application modernization project. 
Also see:
Is It Time To Refresh Your Application?
Is It Time To Rebuild/Replace Your Application?