Since the beginning of the pandemic, one of the key drivers of the accelerated transformation effort has been to try and bridge business process automation and realize productivity and efficiency gains.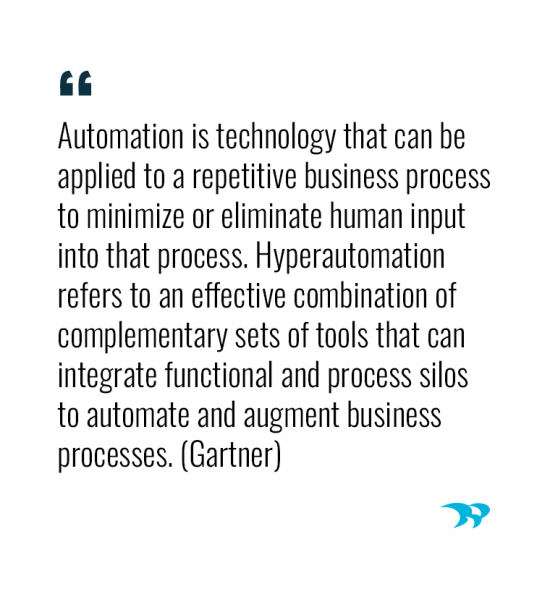 As companies move beyond addressing the immediate needs brought on by the pandemic to more long-term planning phases that build on the advances of the last year, automation, hyperautomation, and robotic process automation (RPA) are starting to dominate the headlines.  
Organizations lose 20 to 30% of revenue every year due to inefficient processes. IDC 
In our latest client survey, we found that improved business process automation topped the charts. Eighty percent of clients want their software to allow for better business process automation.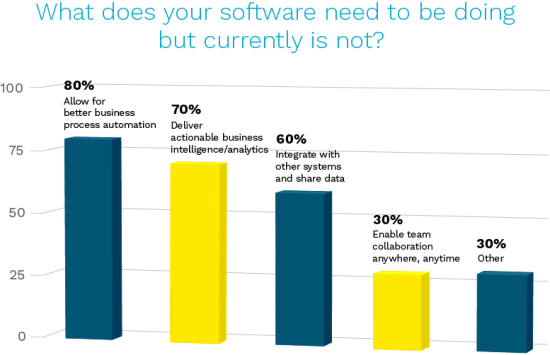 Fast-tracking business process automation
While people think that automation will eliminate jobs as robots take over, the World Economic Forum has found automation eliminates some positions but will create even more new jobs. 
Business process automation improves efficiencies, lowers costs and frees up your employees' time to focus on more important tasks that can help grow the business. 
Even before COVID hit, our clients were placing automation on their 5-year software upgrade roadmaps. The ability to be agile, rapidly scale and automate in this new era of business will not only help businesses survive the immediate crisis but thrive in the recovery.  
While automation has been on every top tech trends list in the last few years, it's not a new or even recent concept. It's been a buzzword in tech circles for 40+ years. But it's been snowballing in recent years as technology becomes more powerful and automation becomes easier and more efficient to implement.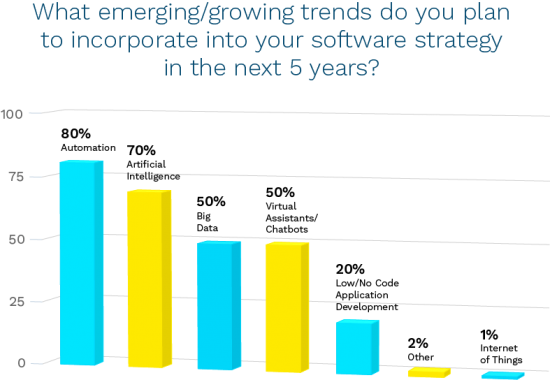 Platforms address business process automation challenges
You don't even really need to be a developer anymore to build your own business process automation thanks to tools such as Microsoft Power Platform and Power Automate. 
And, as a custom software developer, nearly every system Whitecap Canada builds is automating something. Eighteen years ago, we developed a self-service wagering app that replaced calling in by phone to Woodbine Entertainment Group to place your bets on horse races, and that was only the beginning of a system that's continuing to evolve. Read the case study for a deeper dive into our work with Woodbine.  
AI also has an important role in automation. AI uses algorithms to process decisions based on a set of criteria, can simulate a person in the case of chat bots, speed review and analysis of images in medicine or manufacturing for quality control, and even, as our client Woodbine is doing with a recently launched wagering application called Dark Horse, configure and recommend bets based historical data. 
Organizations have adjusted to a world where employees are working and collaborating remotely. Many have been using Microsoft 365 and all its cloud apps like Teams and have adapted to this new workplace reality. 
But did you know that you might be only scratching the surface when it comes to the capabilities of apps like Teams? Teams can help you automate some of the daily tasks that have become tedious. Using Microsoft's Power Automate, you can create flows and automate repetitive work tasks that trigger within Teams. For example, you can create automatic alerts and notifications when a task is created or completed, or aggregate and automate all your team's approval processes. The possibilities are only limited by your imagination. 
The Bottom Line: Closing the business process automation gap builds a more efficient tomorrow
The concept of automation is nothing new.  Improving technology, competitive pressures and the COVID-19 crisis has accelerated the need for businesses to address inefficiencies and productivity. It's not surprising that automation is moving up the priority list. 
The potential for automation technology is immense. The challenge for businesses is identifying processes that are good candidates for automation.  
Do you have an idea for something you'd like to automate, or do you need some help figuring out how to improve business efficiencies with automation? We'd love to hear from you. Let's chat.