One of the most exciting things about technology is how it lets people experience things never before possible … and I'm not just talking about an IMAX experience that lets us travel to the international space station!
In the past, those with physical disabilities faced limitations that could have been isolating and prevented them from taking part in the world around them.
Canadian Disability Facts:
The Canadian government reports one in seven Canadians are disabled.
Statistics Canada says disabilities limit the daily activities of 3.8 million Canadians.
3% of persons with disabilities use some kind of aid or assistive device: Stats Can
Accessibility News reports that in the next 10 years, seniors and people with disabilities will represent 20 to 25% of the Canadian recreation, retail, entertainment, workplace and housing marketplaces.
Bring Down Barriers
While there's still work to be done to create a truly barrier-free world, I think technology has a big role to play in bridging the gaps to bring more and more people together.
Look at video conferencing: Once reserved to high-end corporate boardrooms, it's today available to anyone with a computer or smartphone, letting more people become part of the conversation, meetings or take part social functions from a distance.
The growing sophistication of smart speakers like Amazon's Echo (a.k.a. Alexa) lets you control devices using only your voice, which is making applications and websites available to those who might not be able to use a mouse and keyboard.
Developers Need to Think Accessible
For those with vision impairments, some businesses offer larger fonts or differing contrasts but through one of our recent projects, we realized that the challenges faced by the vision impaired community is much more complex … and the solutions require some very specialized skills to ensure you are providing a user-friendly experience that takes the online experience to the next level, whether you are sighted or not.
Some assistive devices, such as the screen reader software JAWS, allow the visually impaired to "read" a screen either with a text-to-speech output or by a refreshable Braille display. The software reads everything on the page which can become very repetitive and in many cases, doesn't provide a great experience for the user.
Understanding how these devices work, then tailoring your software to be responsive to their needs can drastically improve the user experience … and reduce the user's frustrations when they can't quickly and easily access the parts of a webpage they want. Paying attention to how these devices read a website can let you bring the user experience closer to the one your fully-sighted customers enjoy.
Once you think you've got the site coded correctly, you need to test and test again.
We've learned that these assistive devices can pick up and interpret coding differently than you might expect so you need to constantly test the outputs to see how it is performing in the real world to let you deliver the experience you want.
I won't sugar coat it: Developing with accessibility in mind can be a real learning curve. You need to think about the user experience at many different levels.
Accessibility Legislations
With equality being an important social issue, the need for greater levels of accessibility will continue to grow and make no mistake, accessibility is top of mind with our government.
The Federal government has just completed national hearings to help shape a national accessibility legislation. The Canadians with Disabilities Act, which is expected next year, will undoubtedly contain Web Content Accessibility Guidelines so we should start preparing for the inevitable changes we will need to make.
In addition, each province and territory has their own accessibility standards. In Ontario, for example, businesses should already have accessibility already on their radar. Ontario rules state that any public company with more than 50 people and all public-sector organizations must, by law, make their websites accessible within a specific deadline.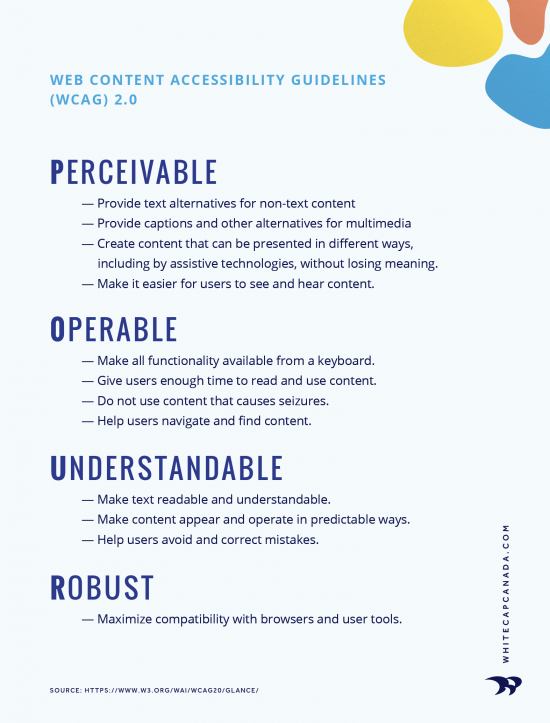 Compliance Can Be Complex
There is a strong, socially-responsible argument for making our businesses accessible to everyone.  Setting higher standards for accessibility in your website design or app development makes good business sense.
There are different levels and standards you could apply so you might need to enlist help to evaluate your options from a company that understands WCAG and the different regional and Federal laws.
Ready to make your business website or app more accessible? Let's get started.