Developing a new website is very exciting. Our clients are always excited about the possibilities when it comes to how it will look, feel and function. But understanding website accessibility requirements is a hugely important component of the development process that is often overlooked. Sadly, people with disabilities still face limitations not just in the physical but also the virtual world. And considering how many people live with a disability, it is not a potential customer you want to ignore. 
Canadian Disability Facts:
The Canadian government reports one in seven Canadians are disabled.
Statistics Canada says disabilities limit the daily activities of 3.8 million Canadians.
3% of persons with disabilities use some kind of aid or assistive device: Stats Can
Accessibility News reports that in the next 10 years, seniors and people with disabilities will represent 20 to 25% of the Canadian recreation, retail, entertainment, workplace and housing marketplaces.
Website Developers Need to Think Accessible
For those with vision impairments, some businesses offer larger fonts or differing contrasts, but that's not enough. The challenges faced by the vision impaired community are much more complex, and the solutions require some very specialized skills to ensure you are providing a user-friendly experience that takes the online experience to the next level, whether you are sighted or not.
Some assistive devices, such as the screen reader software JAWS, allow the visually impaired to "read" a screen either with a text-to-speech output or by a refreshable Braille display. The software reads everything on the page which can become very repetitive and in many cases, doesn't provide a great experience for the user.
Understanding how these devices work, then tailoring your website to be responsive to their needs can drastically improve the user experience and reduce the user's frustrations when they can't quickly and easily access the parts of a webpage they want. Paying attention to how these devices read a website can let you bring the user experience closer to the one your fully-sighted customers enjoy.
Once you think you've got the site coded correctly, you need to test and test again.
We've learned that these assistive devices can pick up and interpret coding differently than you might expect so you need to constantly test the outputs to see how it is performing in the real world to let you deliver the experience you want.
Developing with accessibility in mind can be a real learning curve. You need to think about the user experience at many different levels and for many different types of impairments including: sight, hearing, and speech, neurological conditions. 
Website Accessibility Guidelines & Laws
Globally, the gold standard is the Web Content Accessibility Guidelines (WCAG) 2.0. It is a set of set of standards meant to help web developers and designers build websites that are accessible to people with disabilities. 
Federally, The Accessible Canada Act has the purpose of to identifying, removing and preventing barriers in all areas of life, including in information and communication technologies. Requirements of this act, including website accessibility, will likely follow WCAG. 
In addition, each province and territory has their own accessibility standards. In Ontario (where Whitecap and most of our clients are located) we have the Accessibility for Ontarians with Disabilities Act (AODA). As part of this act, Ontario business owners with more than 50 employees, must either create or refresh website content to meet WCAG 2.0 guidelines. The deadline to meet these guidelines was January 1, 2021.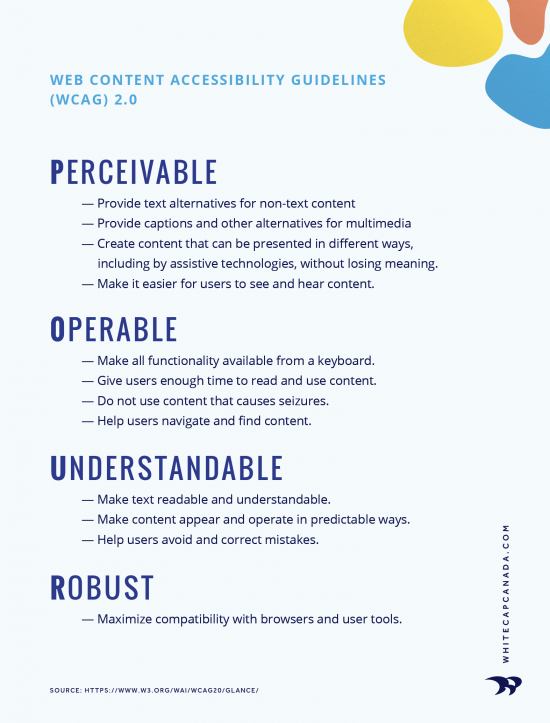 Website Accessibility Compliance Can Be Complex
There is a strong, socially-responsible argument for making our businesses accessible to everyone. But setting higher standards for accessibility in your website design or app development makes good business sense as well. However, understanding and applying all the requirements is no small task and getting it wrong has real consequences–from losing customers to facing fines. 
That's why a trusted and experienced website development partner is crucial for any web development project. 
Ready to make your business website or app more accessible? Let's get started.