In the first two parts of our website blog series we looked at Is Your Website Doing Its Job? and Getting Website User Experience Design Right. These are very important foundational topics to explore when designing or revamping your website or web application. But even a perfect website strategy and design won't be very effective if no one is able to discover your website, and this is why your website needs SEO.
There are more than 1.5 billion websites and more are being added every single minute so it can be hard to rise above the noise.  Even if you look at your own marketplace or industry and your competitors, all of them likely have an online presence, which means you need to find ways to rank above them in organic search results to secure more business from your website.
This is where search engine optimization (SEO) comes into play.
What is SEO?
"SEO stands for Search Engine Optimization, which is the practice of increasing the quantity and quality of traffic to your website through organic search engine results" (Moz).
To make sure you are discoverable to your target audience, rank higher than your competitors and create more natural traffic to your website from search engines, requires an effective and ongoing SEO practice. Let's first consider how search engines work to deliver results: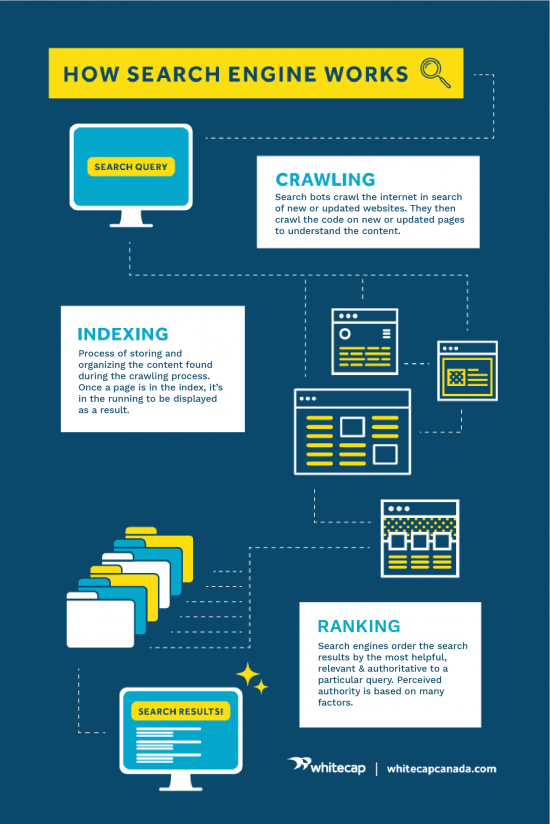 Sounds simple enough but the full breadth of SEO can be difficult to understand, and even harder to harness without proper expertise. The Google algorithm is extremely complex. It uses thousands of ranking signals and is always changing. That said, there are a few key elements that you should always keep in mind when making sure your website is search engine optimized:
Technical Optimizations: From a technical perspective, optimize your code, content and page load speed. Design choices like images, video and other large media files can impact your page speed which is an important ranking and user experience (UX) factor. Minify code and reduce the size of your images and videos to reduce load times. And don't forget to use image alt tags. Google can't see images, so you need to include a description. This is also an important accessibility standard.
On-Page Optimizations: Focus on producing quality, well-structured content with your target audience in mind and make sure it fulfills their intent. For example to buy something, to learn something or to go somewhere. Write with search engines in mind (focus each page on one or two keywords) but your primary focus should be writing content that your audience will want to engage with. Follow SEO best practices by using H1, H2, H3 headers, title tags, meta descriptions and good URL structure. Blogging is a huge part of on-page SEO strategy and we'll explore that in more detail below.
Off-Page Optimizations: There are many things you can do outside of your website to improve search ranking, arguably the most important being link building. The more high-quality, credible, third-party links pointing to your website, the more that boosts your website's authority to search engines. Other important off-page factors include optimizing your Google My Business listing, consistent NAP (making sure your name, address, and phone number are consistent across all your listings including review sites, maps, and social media) and social media. More on social media coming up as well.
Why Your Website Needs SEO
Look at this question another way:  Do you need your customers and new business prospects to be able to find you?
Let's look at some key facts: organic search drives more than 50% of all website traffic. Around 68% of online experiences begin with a search engine like Google or Bing (Ahrefs). More than 1 billion people use Google every month. SEO offers a 14.6% close rate, which is eight times higher than traditional marketing (WebFX). Think of SEO as your top sales executive working hard in the background to find and qualify leads. 
At Whitecap we focus a great deal on how Google handles searches and analytics because it is the most popular search engine used more than 87% of the time, significantly higher than the next most popular search engine Bing at 5.5% (Reliablesoft.net).  And, when it comes to mobile search, google captures 94% of the market. Speaking of Google, in May 2018 the search engine started rolling out mobile-first indexing. Meaning that crawling, indexing and ranking is increasingly performed on mobile versions of a website. Without a responsive design, your website ranking may suffer in time.
By mid-2020 it's projected that voice search (think assistants like Amazon Alexa or Google Home) will account for half online searches and 30% of all website sessions (Forbes). This particular trend will be relevant to some businesses more than others, like those that provide information or ecommerce. But it's definitely one to keep an eye on and stay informed about the specific optimizations that can be made.
Is your head exploding with information yet? This all seems very complex but suffice to say the science of SEO is extremely important if you are going to be found online – and it takes constant attention and nurturing to maintain high rankings.
The Importance of Blogging for SEO
As we mentioned above, blogging is a big part of on-page SEO strategy. Blogging helps boost SEO quality by positioning your website as a relevant answer to your customers' questions. And since the vast majority of customers do online research before making a purchase or reaching out to a sales rep, a blog is a great opportunity to provide the detailed information they're seeking. A regular stream of relevant, quality content that engages your audiences can go a long way in improving your search rankings.
Consider this: Websites that also have a blog are shown to have 434% more indexed pages. Companies who blog get 97% more links to their websites. 77% of internet users read blogs. 72% of online marketers describe content creation as their most effective SEO tactic. (Optinmonster)
While everyone and their uncle seems to have a blog and publish content these days, not every business blog provides truly valuable, customer-centric, search engine optimized content. It's harder than it may seem and just like a website, a blog requires strategy, planning and constant refinement. Here are a few tips to keep in mind:
Blog Categories: So many blogs are a Frankenstein's monster of dozens of blog categories with little thought given to their organization and importance. Think of your blog categories as topics you want to be seen as an authority on, the topics you want to rank for. Categories should be broad but not too ambiguous. They should be able to help your users quickly narrow down the posts they're looking for.
Keyword Focus: Each blog post should be focused around 1-2 long-tail keywords; keywords that match the intent of your readers. Long-tail meaning a few words, often a question, focused on a goal. Ex. Where can I buy the best bagels in Toronto? Include the focus keywords in title tags, headers, the URL, meta description and body of the post. But keep it natural. Don't stuff keywords or Google may penalize you.
Internal Links: Use internal links, meaning link to other posts you mention, category or product pages to help show Google the hierarchy, validity and relevance of your content.
Blog Length & Frequency: Whether it's once a week or once a month, establish a regular schedule for publishing new content on your blog. Set realistic goals and develop a content calendar to guide you. The standard used to be to keep blog posts short, around 500 words. But now we know that longer posts, over 1,000 or even 2,000 words, perform better in organic search. So don't be afraid to write longer-form content.
Once you've built the content to connect with customers through your blog, promoting what you create is key. This is where social media comes into play.
The Importance of Social Media for SEO
Did you know, North Americans spend an average of 2 hours and 6 minutes on social media daily? Social media lets you provide your customers with content that they can review at their leisure. With the popularity of a wide range of social media channels, these platforms provide a very effective (and popular) tool for staying top of mind with your customers without interrupting their day or bombarding them with offers, updates and information they don't want. And, the content you're promoting on social media channels is all driving visitors back to your website, which is helping to build page views, online traffic and ultimately new business leads.
Social media holds a decent controlling factor for organic search ranking too, particularly for local businesses such as restaurants, hair salons or home appliance stores. So it's important your business have a strong social presence, but that doesn't mean simply having a profile on every social network and rarely or never posting any content to your followers.
Just like your website and blog, social media marketing requires a strategy and regular posting frequency of content your target audience will find engaging. Consider your customers and which social networks they are most active on. A hair salon or bakery provides very visually appealing services, so Instagram is probably a great place to reach your customers. A B2B company looking to generate new business leads will likely have more luck on a professional network like LinkedIn. Either way, you don't need to rush to create a TikTok account for your business just because it's the latest trend—unless it makes sense for your business.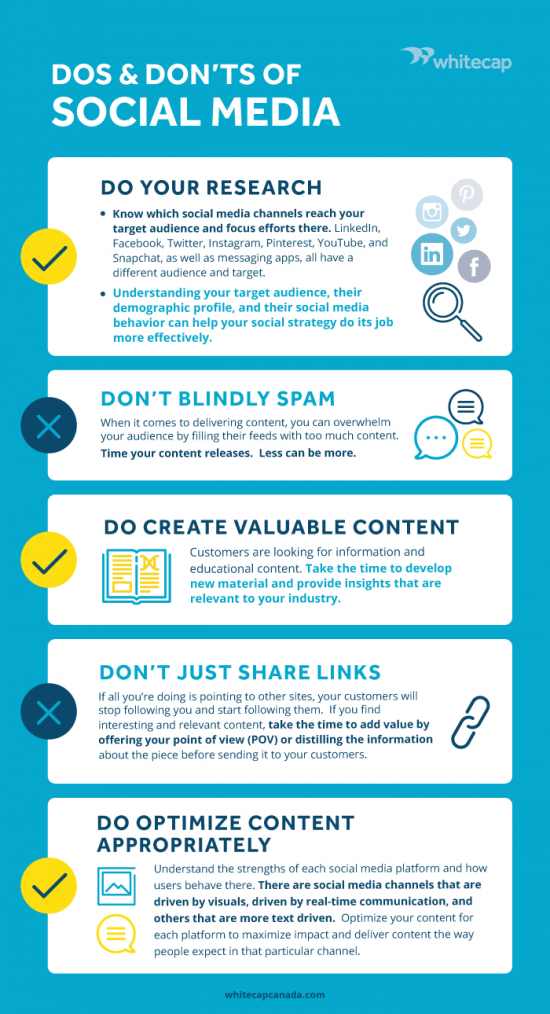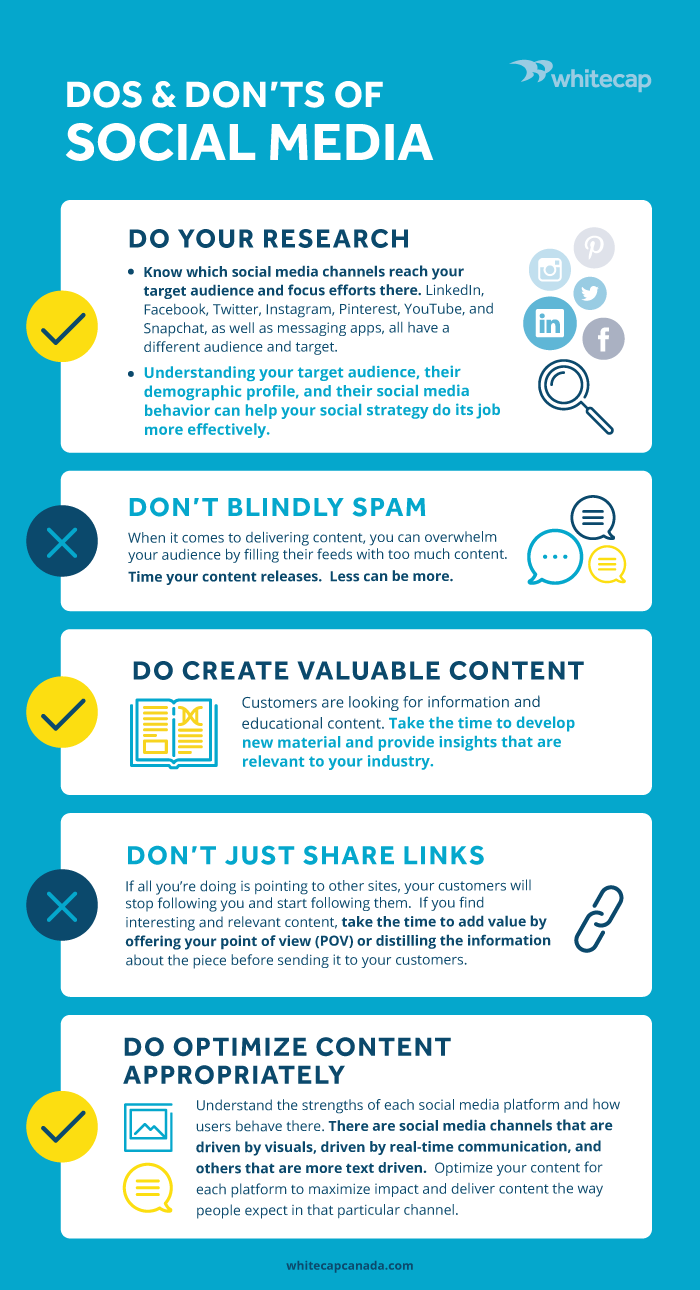 Here are some other social media stats to consider: 66% of marketers reported using blogs in their social media content in 2017. 59% of people will share an article without reading it first, or ever. LinkedIn is the most effective social media platform for delivering content and securing audience engagement. 95.9% of bloggers promote their blog posts via social media. 69% of bloggers say they use social share buttons. (Optinmonster)
Bottom Line: Being discovered by your customers is why your website needs SEO
What does all this mean to your business? Your website, SEO strategy, blogs and publishing on social media work collectively together to boost your online profile and help you stay top of mind with your customers so that when they're ready to buy, they buy from you and not a competitor.
Like many other aspects of online visibility, SEO isn't a set-it-and-forget-it formula.  To consistently rank highly on searches, you have to be updating your content, researching and using keywords, and being active online.
Need help making sure your website is search engine optimized? Reach out to us, we can help!
---
Check out the other posts in our website series: 
Is Your Website Doing Its Job?
Getting Website User Experience Design Right