Heading to a client meeting across the city, I tune into Spotify's Daily Mix, which masterfully mixes a custom blend of my personal favourite rock classics and new country to pass the time during my commute. Before the meeting, I have time to pull into Starbucks for my morning Grande Americano, and I decide to add a blueberry bar to my order … why not, Starbucks Rewards knows I have a sweet tooth and is giving me bonus stars today!
At the end of the day, I put my feet up and log into my Netflix account to catch up on latest episode of House of Cards, while perusing a few new TV shows I might want to start streaming. The suggestions are tailored to my viewing habits, not my daughter's recent reality TV binge-watching session.
These are just some of the ways companies have taken the personalization model pioneered by Amazon, whose ecommerce site excels at greeting customers by name and making personalized recommendations based on shopping history to deliver a more personal retail experience. Customized playlists, knowing my ordering habits and suggesting "you might like" options make us feel like these companies really understand us.
That's personalization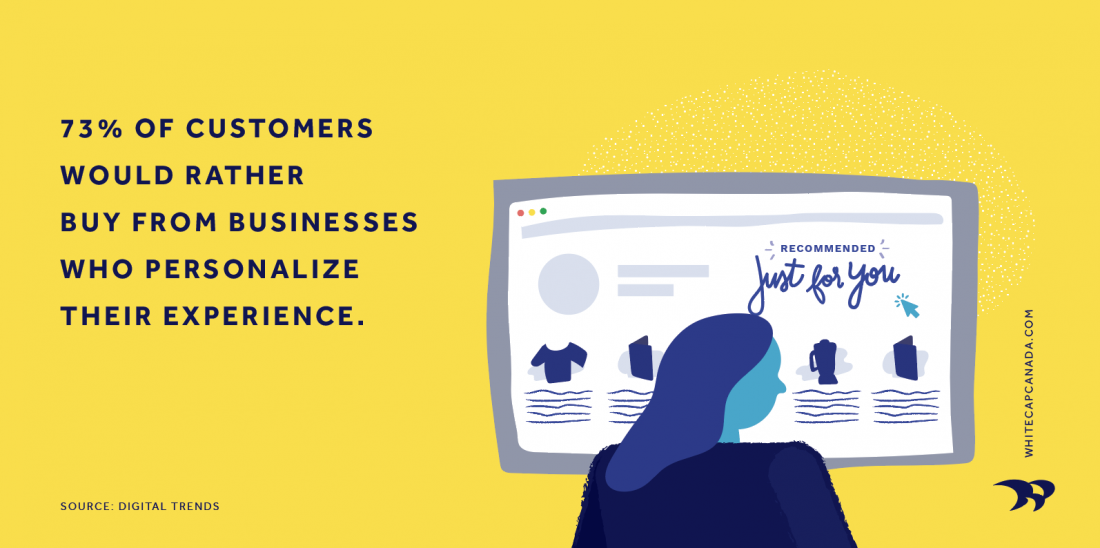 Making a one-to one connection
In its most basic form, personalizing lets companies engage one-on-one with customers, rather than the traditional marketing approach that delivers canned offers to everyone regardless of their interests.
We've talked before about the changing dynamic between sellers and their customers. Personalization lets companies engage with their customers in a dramatically different way by targeting segments of their customer base with different content, offers or suggestions based on recent behaviour across popular digital channels.
Gartner says by 2020, personalization engines that recognize customer intent will increase profits for digital businesses by 15%.
Personalization isn't just for B2C businesses. B2B companies can also benefit from delivering more personalized content. As examples, a construction company owner who logs into his manufacturer's equipment portal could get instant access to repair manuals for the excavators he owns without wading through an entire library of irrelevant manuals, and when placing an order for fuel filters know he's choosing the right ones for his excavator's year, make and model. Or, an office supply company automatically sends out reminders when a customer's toner order could be due, based on their unique and historical purchase patterns, so they never run out.
It's all about the data
You can't discuss personalizing without talking about business intelligence and data analytics, which inevitably leads to conversations about how artificial intelligence (AI) and machine learning help to deliver the insights businesses need.
At the heart of personalization is some very complex AI and machine learning tools that are driving complex algorithms to analyze each data point and help companies understand customer and prospective customers' interests. What did they want to find on your website? How long did they spend on specific pages? Where did they go next? 
Complex algorithms powered by AI and machine learning help businesses predict future behavior so they can then suggest content that matches customer preferences. As you track interactions over time, the intelligence you gain helps you deliver more tailored offers, content or suggestions that give customers the sense you really understand them.
For businesses looking to personalize an experience for their customers, data is critical so you need to start tracking every interaction to identify the right time to engage, with the right opportunity.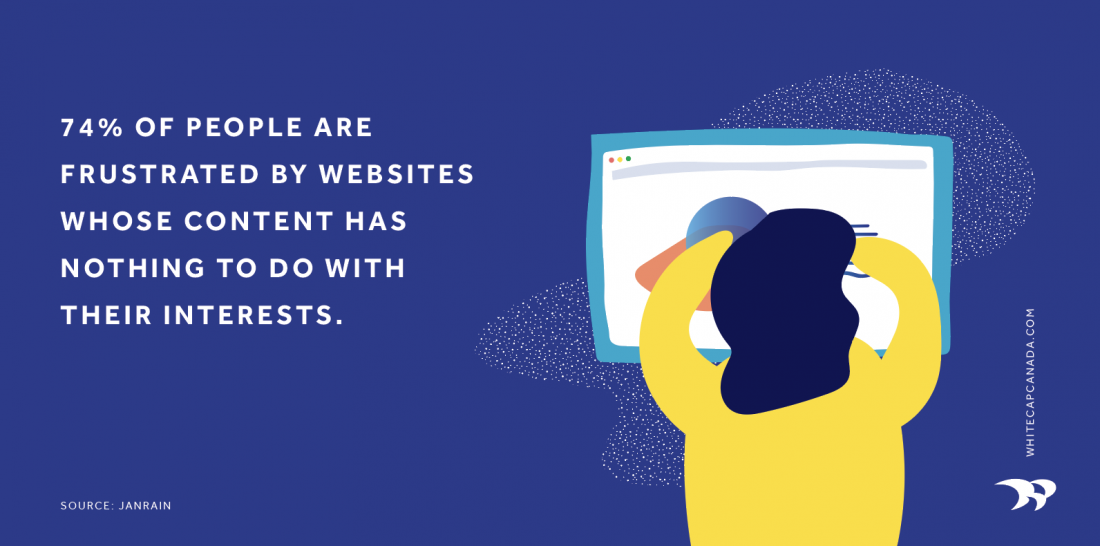 Irrelevant content spells disaster
Despite having access to reams of customer data, Monetate says 95% of data inside organizations is untapped, and companies admit it's a struggle to mine the data they have collected to deliver relevant content.
Customers want you to understand their preferences and will tell you what they want to know … if you know how to listen to what they are telling you. If you don't, you risk sending them to the competition.
A consumer survey by Janrain found 74% of people are frustrated by websites whose content has nothing to do with their interests and more than half will leave sites when offers are completely irrelevant to them.
Improve customer engagement
Personalizing your customer's experience might seem like a challenge: You need to capture, mine and deliver customized content in a timely manner, but the effort is worth it.
Hubspot reports that companies who provide personalized web experiences see a 19% lift in sales, and that 40% of consumers buy more from retailers who personalize the shopping experience across all channels.
Learn more about website design best practices. 
Wondering how to get started with Personalization? Give us a call.